One year ago , Destiny ...
- Nzego - 2018/6/18
1 year ago, the destiny made me met a welcoming and nice "getting-young" man with fresh spirit that had the wisdom to know that he does not need to prove it to anybody. I entered in the door of a familiar backyard (as I have had some chats with the parrot "Jolie Coeur" beforehand), and I saw… I still do not really know exactly what i saw… or what I heard… or what I learned… or what I deeply realized… As there are things as difficult to digest as to understand, even less to describe… …maybe a music that tends to dissapear and to invade all at the same time… …maybe an expanding fire that fell everything with the acceptance which is the root for inner harmony, that precious fruit needed to build both freedom and love… …maybe me as a part of the Universe, itself being a part of me… …maybe a time, flexible and dynamic, inmediate and ethernal, on which I was a pyramid, a buda, a thunder, a leopard… …maybe the symphony of breathing stars, the dance of palm trees waving for the new day… …maybe the answer to a question that i did know that I had… …maybe the greeting to a new current of enlightened motivations and dreams… To say that this was one of the most enriching, surprising and beautiful experiences of my life would risk to be a far too moderate assertion… All this is possible, yes, to the sacred wood… But not less important, the welcoming family environment created in Ebando is what makes possible that the wood worked on myself with full intensity. Total trust in the new family/tribe is a condition to free yourself to the unknown, face your fears and fight the longest of the nights. There are not enough writing lines to thank all Ebando tribe, spetially to lovely grandma Constantine; to the super professional, passionate and knowleageble uncle Pemba; and to the Wise Man Tata-yo, that welcomes the World with a smile, and sees the diverse and particular beauty of each of his banzis. Dikombo bokaye!

Imperial college of London launched a website
- Psychedelic experiences - 2018/5/25
www.psychedelicexperience.net/organisation/T3dbAZxu90CdCb_-G10NEQ/ebando

My time at Ebando was deep and profound
- Ngadi Na Dumu - 2018/5/25
My time at Ebando was deep and profound,(titre) I was called to the medicine in the whispers of a dream... I was welcome by the kindness that pours from Tatayo's being. I was fed love each day by meals prepared by a Queen among women who nurtured me with a smile capable of pausing my heart beat for the purity that poured forth from her eyes..affectionately called "Chef Bonne Bagay". I arrive with physical illness, mental and emotional anguish, and the slight barrier of language. I witnessed the beauty of men and women who move in unison with the intention to guide you along the path to your higher truth. I was guide by a special root back to my forefathers roots. I was the recipient of than I can articulate at this time...I invested...and was invested in...learning to stay awake that I might rest again. My time at Ebando was deep and profound, I was called to the medicine in the whispers of a dream... Perhaps .. I have found a truth.. Perhaps...I have met the soul walking upon my path... Inhaling her sweet humidity slowly with each passing moment... Could a man rise in love with a continent? I say yes...if she called to him in the heart chambers of his every dream with a whisper that penetrated the noise of generations of captivity... and distractions... Divided for a time...for many reasons...but never ever conquered...because she spoke to him from within... underneath all of it ..she was the source of his hidden strength...and nothing would keep him from her... Mother Africa...traditions...roots...visions... I see now why the misguided would want to keep us appart... In the conrete jungles he rarely walked barefoot... But when she called...he came...he stripped off his garments and planted his feet deep into the sands of her shores and followed the harp music of angels and the sounds shot from mouths of rythmic bows and arrows...into her rainforest and began the ending of a long dream to awaken to a new chapter... Seeking his roots...allowing those roots to sink into him... What am I?...Where do i come from?...How did i get here?...What is my purpose? ... questions... questions... questions.... Answers...Answers...Answers... Spiritual fathers welcomed him...his brothers embraced him...the superb beauty of his sisters surrounded him and blinded him with a forgotten simplicity and purity that took his breath away...and then gave it back when he thought he had breathed his last... perhaps...I have met the soul walking upon my path... He remembered now...he saw visions clearly...he gazed up into the sun with his inner child and his ancestors...and a sigh of releif was made by a seeker of silences...and laughter mixed with tears composed of joy and gratitude...dansed out of his eyes... Sacred unified complete light ... Ezriyah...Ngadi Na Dumu... Could a man rise in love with a continent? I say yes...Perhaps .. I have found a truth.. Perhaps... I know where to look... Perhaps... I might right a book... Or maybe I will move slowly... Inhaling her sweet humidity deeply with each passing moment... Africa...Gabon... Motherland...Home... What is Tikkun olam...? What is it to know...? My time at Ebando was deep and profound, I was called to the medicine in the whispers of a dream... I was welcomed home within the intangible walls of my very being... I know this is not the usual review...but it is what I would like to share of my experience with you... Mbolo...

HOLY WAR
- DIBADI - 2018/03/26
Yo Bwekaye! I wrote a piece about my experiences in Gabon and I wanted to share it with you. I don't have plans to publish it at this time (mostly, I wrote it as a way to help integrate my experience and share it with close friends) but it may get out there in a larger way, at some point and I wanted to share it with you, first. As always, I am happy to give you a glowing recommendation on any website and to anybody who may be interested in sitting in ceremony with you! Sending you much love! Dibadi

Salut TataYo !
- Njina / Reniro - 2018 / 01 /20
contenu : « Salut TataYo ! J. and I arrived safely yesterday. Now the new adventure begins as I try to beat jet lag and stay awake on California time :) Thank you and the rest of the Ebando family for the amazing time in Gabon! Those were life-changing weeks for me and I hope to return one day. I have some photos on my phone of you and the guys - I will post them on Facebook to share. Also - if anyone else has photos of me or J., please share our Facebook and WhatsUp information with them. Happy New Year! Much love, G. and J. »

One More :
- Gabriel / Mabunza - 2018 / 01 / 5
contenu : « Big gratitude to hughes Hugues Obiang Poitevin. Tatayoyo for the living love, prayers, and blessings of healing and to all the bwiti brothers and sisters at Ebando who continue to do the work that illuminates many peoples' paths! Big blessings! Basse »

WITNESSING 4 YEARS After from Allison :
- Allison / Movianga - 2018 / 01 / 20
contenu : « Hi J. and G., The crew at Ebando are True and full of Love! Without hesitation, I would absolutely recommend them to welcome you to Gabon and introduce you to the ancient medicine of the forest there. The experience will change you forever in ways I cannot describe and that you cannot expect. It is great that you have chosen to go to the place where it has evolved for thousands if not hundreds of thousands of years or more and be blessed by the people who are consciously trying to preserve it's evolutionary, delicate and controversial nature. Really they are a great bridge between the ancient and the contemporary. I will say It was more difficult for me than for my male initiate at the time as they have men who speak english but no women when I was there so there were times I was 'out of the loop' in a way because my rudimentary french left me while in ceremony and my friend had constant translation, but trust they have only unity and love and best intentions for everyones journey so allow the information/wisdom/cosmic download/LOVE to transcend words and money and you will be absolutely fine. They gathered me from the airport where I arrived a single woman alone and brought me safely to their humble home right on the ocean. I cannot say enough; GO » YO! BASSE! Yaou Yaou »

and again :
- Jim / Dibadi - 2018 / 01 / 10
contenu : « Dimitri ! I wanted to reach out to you as I have just returned from a couple weeks in Gabon with Tatayo for initiation. It was an incredible experience that has changed my life and I hope to be able to share some of the details with you in person next time we cross paths. Thank you, again, for making the introduction and I hope you had great holidays! J. »

Assuming you feel like a read....
- Ezriyah/ Nghadi - 2018 / 02 / 03
contenu : Painting visions with alphabetical paint brushes upon the canvas of the retina...lenses receiving the interdimensional downloads...of a walking meditation that took place upon the bed of creation...where I lay...opening my hips in a stretch to release pent up emotion through natural breath...I began to see in the dark...floating.on concrete along the hollow streets of this matrix talking to it about what seems to be.. as if a fellow architect...maybe... Connection between realities seen in sobriety...made clear while intoxcated...and further deciphered in between... I recognized the scene..I'm in my ex-girl friends dream...watching her and her bestie.. one walking steady and the other on the edge...as they reach their destinations and reconnected beyond a bridge...learning lessons of love and perserverance along the contuim of thoughts that we call time....I am on the outside of it ... becoming aware of these palms of mine with eyes...with no puplis that are full of light that open doors the size of skys...when the probablity statistics drop into a form that I ... might dislike when they begin to arise ... I just slide it all aside.... Matrix of the rat race ...or the matrix of zion...or the matrix of the matrix within this physical form I tried on... for this life time... On heart beats I would right rhymes.. that spoke to the sickness that sits in power...and the fear that impoverishes the wealthiest nations...that have the reputation of being shit holes..primative..disease ridden...while the truth of how advanced they are is covered up and hidden...by those who only know to cypher materials...(and infect the innocent with lack mind venereals...serial killers killing through boxes of cereal... false liberations..minds trapped in imperial nonsense... addicted to various versions of bs content.. employed via seemingly attractive ways of gaining "con-sent" as avatars descend to walk among the indigenous... penetrate continue..us..) and find covert genius ways to continuously infiltrate...but could never destroy the true source of what makes these beings so great...for they forever operate on what we call a higher plane...and strike fear in the feable hearts of the calculated manipulators of the masses by the way that the strain and pain seems to transmutate...the balance that is in place will be kept...in place... for it is.. adaptable... and the pace keepers keep pace...and yeah..the sons and daughters of insurection are once again awake...because I embraced my fate and opened up the gates...its a done deal... our mothers and fathers didn't die in vain ...they only take a break...and then rise again... How do I know...? Painting visions with alphabetical paint brushes upon the canvas of the retina...lenses receiving the interdimensional downloads... Who came back?...I'm not the same...its true...not better or worse...but certainly undeniablely me and all of you...says who? I say so ... willing to empower the most meek on the lay low...in deep gratitude for each breath ... turning hula hoops to halos... pouring golden light into the mouths of angels...for the kindness and protection that beings are afforded... for every instant that occured on behalf of all consciousness that ignored it ... Sifting through that which doesn't serve me in a prayer of thanks and love for when it did...that I might honor what was...for its contribution to what is.... Background was a rich palpable purple like my aura...the sun and the moon both visible...with tripple rainbows over both calm and wave filled waters...along the coast line that connects all land masses and reflects the intricate formation of what exists in the galactic ...space inside the "mind scape" ..of my... expressive acrobatics... Connection between realities seen in sobriety...made clear while intoxcated...and further deciphered in between... as the universe slips me kisses...and I fall awake to sleep...Painting visions with alphabetical paint brushes upon the canvas of the retina...with love and gratitude for all that is.... »

Just received this now from a person after initiation at Ebando Gabon last week : ????????❤️❤
- EPANDO PANDO - 03 / 03 / 2018
contenu : "dear Tatayo, I am safely home in Madrid feeling wonderful. Thank you for hosting me at your magical residence. This was a lifetime experience which I will remember and cherish. I am full of energy to change things in my life that don't work. I also feel lots of inner strength. Thank you for creating this loving space for us where we can grow. Hugs, Épando Pando"

Ebando nestled in between the trees and the ocean lies just out of libreville in the wonderous country of Gabon
- KEVIN NGOUBE - 02 / 15 / 2018
contenu : The village where you come in wearing a mask and leave a free bird. It was here at the temple of the feathered serpent I was initiated into a beautiful bwiti tradition. A spiritual traditional orbiting around the tabernanthe Iboga tree. As my fellow bwiti initiate Pendi said we are really are going back to the basics. We were bathed and changed daily and guided by interlocking pinkies as we prepared for a great battle. The night of initiation, with 20 people watching and playing all kinds of instruments. From moungongos, harps, shakers, cowbell, whistle, horn and clapping the sounds borderline overwhelming while taking one of the most powerful entheogens known. To see a culture come together to celebrate the greatest fight you can have and that is with one's self sheds light on the source of all darkness. A person of peace naturally detests all weapons. In the greatest of battlefields there are no enemies, weapons, or machines. There lay only a mirror and a bucket. To put yourself in a place desired by very few brings you closer to the purest essences of life and thus truth. To be on a beach and enjoying all the fruits of life or to be vomiting in a bucket for hours i chose the latter. Especially when that bucket is in a temple surrounded by beautiful people, music, thunder, monsoon, talking parrots and all else the remarkable Gabon has to offer. All appear mightily to give their admiration and blessings to those who put themselves in such situation. Basse! To my Ebando family for guiding me with love during this journey. The good work you do spreads to the farthest of reaches. <3 Gabon Bokaye!!! »

News from NYC ten months after initiation in Ebando Gabon
- - 2017/08/04
HI Tatayo, I hope you're doing well!
Some of the things from my vision are becoming more clear, almost like I caught a taste of what was to come. I value the experience I had at Ebando more and more as time goes on. Thank you for providing a safe space with lots of mental space for each person to go through their own process. You are truly amazing. Thank you.
Yeah, I now see why it takes a long time before people re-initiate or maybe they only do it once. I have a lot to learn lol!
Please, give my best to everyone !

After initiation at Ebando Gabon in February 2016 :
- - 2016/07/20
"My love and me recently came back from our trip to Gabon, West Africa, where we were "initiated" in the local Bwiti-tradition. Being "initiated" involves about a week and a half of rituals and ceremonies in which you, at the peak of the journey, consume large amounts of "the sacred wood". Eating this "wood" offers you a powerful 'window of opportunity' to let go of patterns and habits that are no longer serving you, and heal and renew yourself. It's the kind of 'rite of passage' into adulthood or a new life stage that has been part of numerous indigenous cultures all over the globe.
The wood is the bark of the root of the Iboga-tree, which is grated, dried, and then ground up for easy consumption. It tastes extremely bitter; just thinking of it right now I'm having the chills! This tree is worldwide only found in the rainforests of Gabon, and in some parts of Cameroon and the Congo. Eating it gives you visions, insight, and inspiration. Most importantly, it is used as a sacrament to heal, restore, and re-align your body, mind, heart, and soul. The wood is sometimes called a "sacred medicine" or a "plant medicine", as it heals you in more profound and encompassing ways than any pharmaceutical ever could; it heals spirit and psyche as much as it heals body and mind. However, eating the wood tends to be a "bitter pill" to swallow (literally and figuratively), as mr. Iboga is known as a highly effective though not necessarily gentle or subtle doctor. To say that in other words, 'he' tends to kick your butt.
I can personally affirm the powerful healing and beneficial effects of this wood: now, back from this journey, I feel more at ease, whole, and appreciative of life than I ever have. I also feel more embodied, and more in touch with the subtleties of my inner experience. It is a bit like my whole experience has lifted to a higher level, while at the same time feeling more natural and spontaneous. It is not so much that the things I struggled with magically disappeared (though that can happen too), but more that 'openings' have emerged in old patterns, leaving me feeling more aware of them, as well as more empowered to change them.
To give you just a little example, I never posted much on Facebook because I tended to hold a pretty deep, subconscious fear of rejection. Showing myself, and my ideas, to the world did not feel so compelling, as I was afraid people may judge what I post, or dislike what I say or who I am. However, I was not fully aware of this inner dynamic. After the initiation I suddenly felt more aware of this fear, while at the same time feeling the desire as well as the strength to express myself more freely. So while the fear was not completely gone, I was no longer 'held hostage' by it. It's like my degrees of freedom expanded, but I still have to do the work: be aware, stay away from re-treading old paths, and actively choose what I want to do with this freedom. In the initiation night you eat a great amount of wood, literally as much as you can. After that, you are on a journey ~ a journey into yourself and into the cosmos ~ for a good thirty hours. So that's a loooong time, but in the experience of most people it goes by very quick. For me it was over before I knew it! Although in this tradition people eat small amounts of wood for all kinds of reasons, such as ceremonies when a baby is born or when a couple gets married, the initiation is a 'once in a lifetime' experience. This is the greatest amount of wood you will ever eat, and often it is done with a clear purpose. Generally, initiations have three phases: 1) a recapitulation of one's life, in which people often go back to, or get visions of, their childhood, other episodes of their life, and their ancestral origins; 2) a death, as only by letting go of our old self, by letting that part of us die, we can step into something new, which is 3) the rebirth, when we are born into a more healthy and happy expression of who we are at our core.
Because this experience is so intense, you are thoroughly prepared for it. They do this through three days of rituals that are primarily focused on physical, emotional, and energetic cleansing, and creating a state of psychological readiness. We made offerings, were kind of 'baptized' in a river, got to wear a white cloth as our only piece of clothing for days, were washed in a carefully prepared 'flower bath' three times daily (and not allowed to shower or wash our selves, as the plants used in the flower bath are believed to protect you during this pivotal time), and we had to wear a 'crown' made of ferns, also in order to protect us (see the pics!). We participated in special purges, were 'smoked', and had time for rest and reflection on our intentions for the initiation.
While my skeptical mind started off thinking that perhaps these rites are just 'empty rituals', performed to conform to an oppressive and irrational tradition, I found that this process really worked for me. While I felt a bit scared and certainly not 'ready' for the initiation when I started, I felt empowered and ready to go by day three. So I got to experience first hand that these rites fulfill powerful, pragmatic functions and are designed with a lot of wisdom and care.
It was also awe-inspiring to see how these initiations are such communal undertakings ~ so many people were involved in the process. They played music and sung for us, bathed and 'smoked' us, prayed for us, danced with us the whole night long, etcetera. It is beautiful to see how in this tradition the individual is carried and supported by the collective. That was certainly one of the elements that made it such a deeply moving and humbling experience for me. It was also special that in this particular temple black and white people work together so beautifully and joyfully, obviously having so much fun with each other.
And then there is that amazing music: powerful African voices in combination with unique instruments that have co-evolved with the tradition, in particularly the ngombi, a special 8-string harp, and the mogongo, a mouth bow. The singing and the music is an ongoing and central part of the initiation, accompanying every step of the process, thereby creating connection and harmony in the community, as well as invoking both a deeper as well as a more grounded experience ~ which is especially important in those moments when you are 'flying through space' due to the power of the wood.
Also nature plays a central and powerful role in the tradition. Iboga comes from the forest and is considered sacred and inspirited, animated, as is the rest of nature. In almost all rituals plants are used as supportive elements, and many of the ceremonies took either place in the forest, or in the 'temple' where we were still connected with the earth through our bare feet. Rather than there being a guru, in this tradition nature, and in particular the 'plant teacher' of Iboga, is the ultimate teacher. That, to some extent, avoids the well-known problems with human spiritual teachers (e.g., the sexual scandals that follow many gurus). To me there is something very pure and truly awe-inspiring about the fact that these plants naturally occur, while having reportedly so much to offer for us as humans, from physical and psychological healing to our moral and spiritual direction in life. And the reports of these benefits are not merely based on anecdotal evidence, but are increasingly also becoming scientifically supported.
As an environmental thinker, researcher, and 'activist' (for lack of a better word), I'm also aware that these plants have a particularly powerful potential in terms of changing our worldviews (our basic understanding of life, the world, and ourselves), and reconnecting us with nature. Experiences with these 'plant teachers' or 'sacred medicines' make it for most people blatantly obvious that nature is full with aliveness and spirit, is intrinsically valuable, intensely beautiful, and something to protect and care for. After working with these plants for over six years now (mainly Ayahuasca and Iboga), I still have to meet the first person who denies having that kind of mystical nature experience. It has kept me wondering whether I should expand my research to explore the potential of 'plant medicines' for worldview changes in a more sustainable direction… I am still digesting and integrating the full effects of this amazing opportunity and experience that we had, feeling very grateful to all the people that somehow participated in our initiations, and to all our friends on the journey of becoming a more happy, healthy, and integrated human being.
Bokaye!"

Hello there Bwitiful Ebando !
- D. - 2016/03/10
Just had to send a quick note as I am really missing all you mad, marvelous people, and yet feeling you so present and alive in my heart! So many brilliant memories of precious moments, belly laughter, soul connections, valuable life lessons, priceless exchanges, naughty giggles, transformative challenges and delightful characters all mixed in with raw, and wild, malarial, musical magic!!! Shoo! My heart is very full!
Difficult to put into words the gratitude I feel towards you for having been an integral part of a truly incredible experience that is still unfolding in the most amazing way... Thank you.
Please send my love, greetings and heartfelt thanks to your Bwitiful team...
And especially to you! Love you Tata Yo Yo Yo!!!
And I hope that you are happy, healthy, inspired and loving the awesome work that you do!
Bassi Bassi
Big bwitiful hugs and cheeky kisses to you all!"
D.

Hi Chandler
- David/Okukue Na Aniepa - 2016/02/11
Hi Chandler,
my advice :
Go to Tatayos. His place is the only place to go in Gabon as westerner and his bwiti is love all encompassing. Let me know if you need any info
David/Okukue Na Aniepa

Hello Chandler
- Kidani - 2016/02/10
Hello Chandler,
My name is Kidani and I'm from Boston MA. I had my experience with Iboga through initiator YO and I must admit it was a hell of a ride. My opinion is that your experience in life and what you bring to Iboga what determines your journey.
There's a lot that can be said but if you have any specific questions please feel free to reach out.
travel well my friend
Kidani

2 weeks into Gabon's Cultures
- Rachael Fawn - 2016/02/09
Rachael Fawn back from Libreville International Aeroport to USA !
"As night begins to fall on Ebando, and we make our way to the airport, I'm unable to find the proper words to describe what it is I'm feeling right now. I am immensely grateful to Hugues Obiang Poitevin and Sarha Abang Essone for being incredibly gracious hosts to us for the two weeks we were here. They were extremely accommodating and made certain we had everything we needed and then more. The other residents of the compound were a joy to listen to and watch in and out of ceremony, and I will miss them with every fiber of my being.
There's so much love in this place, it makes me not want to leave. But I know we have to, and we have to spread what we have learned here with those who need it.
With that, I say bassé Ebando, and all my thanks and gratitude.
We will see you again one day."

5 months later !
- Kidani - 2015/08/31
peace Tatayo & Sarah,
I hope you guys are doing ok. I'm doing alright and I'm watching the experience you guys gave me make changes in my life. I miss you both.
I wish you guys could send me some of the pictures for memory and to keep you close.
Kidani

MUCH LOVE to you Tatayo!!
- CLA aka Mabunza nagho Pindi - 2015/08/31
"MUCH LOVE to you Tatayo!!
thank you for infusing me with those good traditions.
that harp that was put on my head is still there.
Work continues to be great but is much less taxing and is much richer.
We continue to bring people to the ocean for giving her gifts and ritual cleansing as we always have but now we also bring everyone to the deep big forest and river here to give gifts and ask permission and have the most beautiful days. All of the patients have appreciated this alot. I keep my harp in tune and play it through every session and every day. Let Olga know this!! i still want to take good wind away! My friend jeff who i brought one of the other harps has become quite a maestro(he was already a pretty amazing guitar and bass guitar and sitar player so these things are seemingly effortless to him) and he plays the harp for all our sessions and the trips to the forest of the sea.
My body continues to hurt very little and often not at all.
Thank you! Thank you! Thank you! Give my love to everyone.
Give my thanks to all, and special thanks to Pemba, he crosses my mind and heart alot, and Bokaye whose harp song is still rolling around within me. We played some of Mambwiti s music last night during session with a young 29 year old whos been shooting heroin and smoking crack since he was 16 and is this morning sifting, dreaming and becoming a new man.
Love! Thanks!
Wishing you open ways and a river of sweet and good things in your life Tatayo."

Thank you for an absolutely perfect initiation
- K. - 2015/04/15
Hello papa Tata Yo,
Tata Yo, thank you for an absolutely perfect initiation.
You have my deepest gratitude and respect the care, love, wisdom and humor you showed me.
I am sorry that it took me a couple months to say it to you.
I do hope to see you again in the future. I did not speak much while I was there, but I am eternally grateful for iboga and yourself inviting me to clean out the bullshit and get my life back, and so much more that I have yet to see.
with love
we are together
basse basse!!
K.

I feel deep gratitude whenever i think of you all!
- S. - 2015/04/12
dear Tatayo, i feel deep gratitude whenever i think of you all!
time flies and i was hoping i would get a biiig THANK YOU over to you much sooner!
uh well, here it is.
not a day goes by that Clint and i don't think about our weeks with you at ebando.
what an incredible experience.
when we returned home, every day life, work, divorce proceedings and house renovations swallowed us up pretty quick and for a little while, gabon seemed like a dream.
now that we are slowly surrendering back into the process, deep insights and revelations surface around every corner. what beautiful medicine!!!
thank you, Papa Andre, Mama Lucy, Abang, Kathy and every single one of the lovely team, for making this unforgettable initiation possible.
i feel deep gratitude whenever i think of you all!
from here, the work continues. i can't wait.
lots of love and many big hugs
(and virtual boxes of strop waffles) from amsterdam
xxxoxoxooxxx
S.

I've been working around ibogaine for the past 5 years
- Ngadi - 2015/03/27
I've been working around ibogaine for the past 5 years,
and for those last 2, I have been the Director of the Global Ibogaine Therapy Alliance (GITA). I went for an initiation at Ebando last year with two friends and can only say that in my experience the ceremony was an enormous blessing. It touched my life in one of the deepest ways I have ever experience. What began there is still unfolding in my life daily and I am forever grateful to Tatayo and all of the incredible ngangas and maboundi at Ebando.
I would recommend this to anyone as an amazing place to go for an initiation with iboga. I would also recommend it to anyone interested in visiting Gabon for other reasons, especially to become acquainted with Bwiti and Gabonese cultures.
Bless !
Ngadi ...

My stay for initiation with you in December-January has been life changing
- Tenane - 2015/03/28
Dear Yo and Ebando friends,
My stay for initiation with you in December-January has been life changing.
Never could I have dreamed it would change so much.
My initiation has been all about grounding, connecting fully to my body and to the energy of the earth.
Since my initation I feel my life has just now really started, finally my innerchild has been released and I can feel so much more live, joy, love but also sadness and fear are much more an the surface now.
Before this time I was not aware of the depth of all the feelings I have inside, I feel alive and grateful to be in this story here on earth.
Much more surrender to Existence, an open heart and self-love. I am very consious of living my own life (what is good for me, what do I want) instead of living to the expectations of someone else.
This is totally new for me and I love this change living for myself! :-)
I can feel I'm in a different flow now, much more in sync with the miracle of Live.
The devoted love, care and nurturing you all gave me was amazing.
I loved the connection I had with all of you, the devine food and fun I had.
I felt very safe and in the perfect nursery for my rebirth.
If Existence allows me to come back one day I certainly will.
You are all forever in my heart and in my blessings.
Thank you again so much for everything!
Big hug and lots of love for everyone!
Tenane

I can't express to you the extent of my gratitude
- Aluba - 2015/03/29
Tatayo,
Greetings Papa! I've been meaning to write to you for some time following our stay with you, apologies for not getting to it sooner. I hope you and all the other wonderful souls at Ebando are keeping well?
We miss you all, but, you remain with us in our hearts.
I can't express to you the extent of my gratitude for what both myself and P. experienced while we were in Gabon. Quite simply it has changed everything. Coming back to the UK has been like stepping back into another person's life. In many ways that is exactly what I am doing for Aluba is a very different person to B.. There are small things which Aluba does that B. never did. For example, Aluba like standing on his head each morning and evening (something he learned from Nzero), Aluba doesn't drink, Aluba doesn't do stress, Aluba listens and holds space for others to figure things out themselves rather than jumping in with his advice, Aluba needs to move a lot and is very fit as a result, Aluba loves to pray, Aluba always tells the truth, most of all Aluba loves to spend every precious moment that he can with his darling Mfeyabel - his muse and the one true love of his life.
I really much prefer Aluba to B.! But as you know, they are the one. In fact, we are all the one. Bokaye!
Bwiti continues to bring new blessings to me each day Papa. I'm a building a new life with the beautiful Mfeyabel. It is a life full of love, fun and bliss. Thank you for all you have given us. Bwiti taught us the importance of truth, love and forgiveness and continues to fill our hearts each day with the courage to live life according to our true will.
I've attached a photo of my Bwiti altar that has sprung up since I arrived back from Gabon. It is where I start and end each day in gratitude, prayer and silent meditation. Much love to you Papa and to all my dear Bwiti brothers and sisters. I am forever grateful to you all.
Truth, Love, Courage,
Aluba

Beautiful story about a caterpillar
- Caterpillar - 2015/01/13
There is a beautiful story about a caterpillar that lived much of its life believing that it had come into being only to eat and sleep and do what the rest of the caterpillars did. However it was unhappy. Somehow it sensed that its life had another dimension not yet experienced.
One day, driven by a strange longing, it decided to become still and silent. It hung from the branch of a tree, weaving a cocoon around itself. Inside the cocoon, although constrained and uncomfortable, it waited, sensing and aware. Its patience bore fruit, for when the cocoon burst open, it was no longer the lowly worm that went in, but a beautiful, resplendent, winged butterfly which dazzled the sky. It soared and flew, no longer limited to its worm-like existence, but free and unbounded. The caterpillar had been transformed into a thing of air and lightness, magic and beauty.
Once the transformation had taken place, it was impossible for the butterfly to return to being a worm. In the cocoon, the caterpillar had become one with its inner being and in this union it reached its ultimate nature. What happened in the cocoon can be described as yoga. Yoga is the path towards being boundless.

I feel regenerated, feeling so grateful for some infin8 solutions we met through initiation. And Good to be slowed down!
- Revede - 2014/12/11
Bokaye !
Hi Tatayo
How are you doing man ?
I trust you are well and same blessed wishes for all your kids and relations.
We are doing good here to say we're blessed, by the fireside,
Loving the superhuman music collection from your home world.
freeze thaw toast and repeat.
I feel regenerated, feeling so grateful for some infin8 solutions we met through initiation.
and Good to be slowed down!
My health is on a good setting.
I did not go to the Amazon/
and feel to stay put and still waiting for baby.
Holding space for the Babymoma.
Loving much
Revede

THE UNICORD TESTIMONIAL (IRISH PYGMY & LOVE teachings)
- Ditembe Gho Tzengue - 2014/12/01
In late November 2012, I arrived in Gabon.
Tatayo met me at the airport and for some reason I felt I had met him before.
I had come to Gabon to undergo a Bwiti initiation.
I had experienced Ibogaine and Iboga TA extract before and while it was an extraordinary experience I have always considered tribal or ceremonial initiations from 'Elders' far superior to merely ingesting the substance.
When I use the term 'Elders' it is not indicative of age (most of the members of the Ebando tribe were younger than me) but rather of a seniority born of experience.
Tatayo and the people of Ebando have that in abundance.
Throughout the length of my stay I was looked after and guided by the people of Ebando, and while every effort was made to prepare me for my initiation as it is often the case, nothing could have prepared me for what was about to happen.
I have had experience of other entheogens, plant teachers, allies....whatever you choose to call them and of various pharmaceutical agents purported to induce spiritual experiences but quite honestly nothing compares to the Sacred Wood of the Iboga Tree.
On the night of the 30th of November through to the 2nd of December I drifted into and through a territory I had an idea existed, but until that time I had no experience of.
Having being prepared during the previous week, visiting the forest, partaking of several daily ritual baths and cleansings and a rather extensive emetic purge, about two hours before midnight I was taken for a final bath and dressed and blessed for initiation.
Amidst great singing, dancing and music I was escorted to the Nzimba, an area in front of the temple where the initiates gather.
It was all heavily ritualised and I followed the instructions I was given.
Sitting on a mat in the Nzimba the music, singing and dancing became very intense.
There was an urgency similar to boarding a boat that was about to leave port, or perhaps more correctly a canoe that was about to leave the shore and enter the rapids of a raging torrent.
Sitting on my mat, in the presence of my Bwiti mama and papa (Menge and Salvatore), I was fed spoon after spoon of the Sacred Wood by Tatayo, trying desperately to get it as far back into my mouth and down my throat as quickly as possible. It is difficult to explain exactly how vile it actually tastes.
While concentrating on following the complex rhythms of the singers and musicians, the familiar sounds began to change.
The pulsing music began to make me vibrate and loosen up at what felt like a cellular level and I began to dissolve, disintegrating until eventually reality began to fade or rather was replaced with another, all-encompassing reality. The initial onslaught was extraordinary.
I have never experienced anything as overwhelming or mind-numbingly potent as the 'Wood'.
It was impossible (and probably very unwise) for me to try and control the experience. In light of the astoundingly powerful force I was confronted with I proceeded without an ins
tant of hesitation to surrender completely to the experience.
From that moment on I felt I was completely loved and cared for. There was none of the fear/terror, discomfort, sickness or disassociation that is often part of such experiences. I was treated by the Wood very much as a child would be treated by a loving parent. The Wood itself instilled a sense of trust and love in me, letting me know that I had nothing to fear.
Throughout the night the sounds of the musicians and dancers kept me afloat on my journey. (Interestingly, I had found it difficult to comprehend the music of Bwiti, it seemed a little 'off' to me but needless to say the Wood corrected that and I eventually understood that it was not the sound that was off but was in fact my ear and hearing that were at fault). The experience continued into the following day and did not stop until the day after that when I finally slept. The experience is of a private nature but not secret.
During one of my visions I was given my Bwiti name.
It was repeated to me over and over again by a disembodied voice.
I remembered several of my visions but thought I must have lost consciousness at one point because a great deal of time seemed to pass but it did not register with me and my memory seemed empty.
I thought I had somehow failed in my quest.
But I had not fallen asleep. Far from it.
Only in the coming nine months did things really become clear for me and many, many visions returned, the majority of which were difficult to confront and unpleasant to process.
But by then I was no longer a Banzi, a child sitting on my mat, and as an adult, a Nganga in Bwiti I proceeded as I should, without fear and with an open heart, facing whatever presented itself to me.
Throughout the past two years my outlook, my attitude, my perception and consequently my life have all changed beyond recognition.
During my rebirth in Bwiti, a new direction was pointed out to me and as only a true Ally and Teacher can do, the Sacred Wood not only pointed out the way but closed off all other options, making it more correctly a command rather than a suggestion. During my initiation the paramount importance of sound became apparent to me.
The sacred instruments used during the ceremony were used to guide me through that other place.
Without the sound of the eight stringed harp (Ngombe), the mouth bow (Mougongo) and the astoundingly beautiful rhythms of the Bakè/Obaka to guide me I sincerely believe I would have become lost in that world forever.
Within weeks of returning home I started studying sound and its use in a therapeutic context. I have continued my studies using various instruments and techniques. Now, two years later I am a qualified sound therapist, starting off on a new journey.
It is really only over the past few months that I fully understand that the visions of my initiation have become manifest in this reality.
But that other reality, that of the Bwiti, is forever present to me...
It is a different dimension perpetually open to me and when my time here is over, no matter where I am in this world, I will return to that realm.
Ditembe Gho Tzengue, La Corde Unique, Single String.

German already Pygmy to German who would like to become German Pygmy!
- Mouloungui - 2014/11/13
dear J.,
i am in ghana right now, but whenever u feel, contact me. when i am back in december i can also call u or right u more detailed about the experience in ebando.
it is a wonderful oportunity to learn about life and yourself and everything. ebando is a beautiful place and all their inhabitants give love and good atmosphere to do something so profound like an initiation.
i recommend it without any doubts.
best, and sorry for beeing brief in this internetcafe in kumasi.
nik/mouloungui

PEACE & LOVE
- Ngadi na Duma - 2014/08/06
Bokaye! wanye!
Greetings Tata,
I already wrote a long letter. I want to write a short message to say that today I have been telling stories and reflecting on my time there at Ebando, and I am really missing all of you. I feel a lot of love and gratitude for you and for everything that you offered me.
Also to Y. and to everyone else that was there.
This initiation has been such an incredible experience for me, and although there are lots of projects and futures that I would be honored to share with all of you, right now I'm content to say that if none of it happens and I never see you again, I have shared my best, and experienced something truly bwitiful.
You are all in my prayers, and very close to my heart.
Basse!

IBOGA IN GABON
- http://ilumove.com/iboga-in-gabon/ - 2014/07/14

Ebando Family, Love you as Always
- K.P - 2013/09/25
I have been in London for almost 2 weeks now, I have been having amazing dreams and sleeping without any trouble. I have been out drinking and smoking one night since I have been in London and the day after it felt like I was there again, that place of realization, that place we call the wood, the inside of my body and my mind so light the only thing I could do was to lay still, I was not depressed or sad neither happy or joyful, I was just aware.
My next stop is H...... My girlfriend and I will try again at the relationship thing. I am not scared any more and I feel ready. I will start table tennis training and gym training whilst I get ready to go back to university for my masters degree. Hoping to find a Balance so key to Happiness
We Will Never let the Dark Fear of Babylon bring us Down, Our flaming torches of Love shall chase away the dark for as long as it burns. Eternal Love
K.P
x

The Chosen People of Iboga: A Conversation with Dimitri Mobengo Mugianis
- Ido Hartogsohn - 2013/08/06

BASSE ! WITHOUT INTEGRITY , HONESTY AND HUMILITY, IT IS EASY TO GET LOST!
- M.K & A - 2013/07/17
I am very happy that I have my connection to Ebando, and to you Yo.
Many people, when they meet you think you are crazy.
I have met many Bwitists in Europe and Gabon over these last eight years, and I can assure you, you are the least crazy of them all !!
One LOVE.

Wishing all is well in Ebando and for you Yo
- M. aka Nzero Momombe - 2013/07/17
I would like to thank you again for guiding me back to my life!
I am eternally grateful to you. I am still not smoking neither do i smoke ganja! Some of you messages have been life changing. I have not forgotten my mission. My plan is too come back in January too help you plant Iboga. I will have money to donate for the land also! I miss you and everyone at Ebando.
I have great respect for Pemba as he did so much for my transformation.
Big love Yo and thank you.
M. aka Nzero Momombe.....

MARSH 2013 POST INITIATION Questionary
- KOMBO MOULOUNGUI DIA NONGONOKO - 2013/04/24
Name : M
Prénom : KOMBO : Mouloungui DIA NONGONOKO
37 ans - PAYS (Résidence) Country: G
Profession/occupation : Musician
Date initiation date : MARCH 2013
1-WHAT WERE YOUR MOTIVATIONS & AIMS ?
I wanted too see behind the curtain, to widen my interpretation of the truth. I wanted to encounter or find my way to love and truth which is god. I wanted to develope, to disolve ego and psycho complexes. I wanted to learn and get to know to the bwiti culture with all the culture like music and dance.
2 - Considérez vous avoir atteint ces objectifs ? Si "oui" combien de temps après votre initiation ? Si "non" pour quelles raisons d'après vous ?
Do you consider you did succeed ? IF YES, how many time after ? If NOT ...WHY ?
I guess I did succeed, though not in a way as I had expected. As I had a rather difficult process, it took me quiet a while to transcend all my complexes. But after a week it felt that insted of fear and insecurity there was peace and acceptence. It´s hard to tell if it was due to the iboga or because of meeting all these beautiful people that i experienced so much joy and love. It felt like beeing at mothers breast as we banzies were treated with so much love and goodwill.
3 - Quels changements concrets pouvez vous lister dans votre comportement, votre vie...?
WHAT CONCRETE CHANGES IN your BEHAVIOUR ?
The permanent unrest and slight tense and depressed feeling which had remained with me every moment since my childhood has almost vanished and at times is not noticeable anymore. I expect it to return every moment since, because it is hard to believe that it really has permanently vanished, but until now I definately feel a change to more easiness. During my first studio gig as a piano player after the iniciation I noticed that my minority complex and shyness has gotten less intense, that i dont blame myself no longer for played mistakes, that I dont get tense just because I dont play a perfect take, that I play more inspired. I also feel a connection to god, a feeling like beeing loved and kept safe and taken care of. (But this might be because I fell in love recently). I also need less sleep while on the other hand I manage easier to fall asleep, as I had a sleeping problem before I came. I dont feel for watching TV or any stupid distractions of the reality like entertainment, that means I enjoy facing the reality, I enjoy living my life. The changes might not be lasting - it is now just 2 or 3 weeks after the initiation - but at least for now it does feel a bit like being reborn.
IF NO CHANGE or WORSE , develop please ....
4 - why did you choose EBANDO ?
I just followed the other Banzi but all Testemonies hinted that Ebando would be a good option. Contacting Tatayo was good, as he straight away could liberate me from doubts with his natural behavior and style before I decided to go. For me as a musician it was interesting that other musicians like Mambwité would live there. As soon as I arrived I realised that it was the best place to be: so much good will from everyone, not only one but many ngangas. A very natural attitude, no hiding of anything. No bullshit with money. The certainly expensive costs were worth every penny as we got the best preparation, an almost luxurios treatment, and beautiful extras like trips to other places to get a glimpse. The entire stay could not be weighten up/measured up with gold. Also the attitude towards the bwiti seems right over there. There is a deep respect for the tradition, and the people at Ebando really seem to mean it, they really seem to live the bwiti. I couldn't see anything else then developement of compassion, respect of the holy spirit, beauty, peace and love. I could not imagine a better place to gain trust towards the bwiti and gather courage to go for an initiation like that. Particulary for a white greenhorn it is an easy entry.
5 - Would you RECOMMEND Bwitinitiation or Ebando to a beloved person ?
definately! I already recommended it to all my friends, and I will keep on trying to persuade others. No easy job, as most people in Europe have so many fears towards taking unknown drugs, going to unknown countries, doing anything unknown. But I hope I can convince some people in the long run. I will succeed if my changed state of conciousness remains like that. Together with my first Vipassana Meditation course the Bwiti initiation for sure is the strongest experience with deepest impact on me I ever experienced. Although I am not sure if it was the initiation itself or the whole package first of all meeting all these wonderful people in Gabon, I can say that together with the Vipassana practice, the visit of Ebando/Gabon is the best thing that ever happened to me even though I had some rather unpleasant moments with myself during the process ...
(...)
If NOT...WHY ?
6 - WHAT WOULD YOU CHANGE or DEVELOP in EBANDO ?
no need for changes over there. it's already a paradise. Certainly it would be great if every member of Ebando would get a descent income, and it would be nice if the future of Ebando would be secured. There should be a funding raised for it or something.
7 - Would you be ready to help EBANDO ?
if YES ...HOW ?
definately if I could. Please let me know if there is anything I can do for Ebando. Right now I would be willing to move there and help/work if there would be any need. Moneywise I am quiet miserable these days but I know of course that any donnation would be best for Ebando. Maybe I could translate the website into G.... I could advertise at G... healing schools or institutes with drugaddiction treatment programs if that helps. I really would love to help in any way.
I might write a testemony later, if you are interested. I am really grateful for all that you guys have done for us.

A SECOND SWEDISH PYGMY is REBORN ! DECEMBER 2013
- - 2013/02/14

LIFE CHANGING EXPERIENCE !
- Mark (Kombe Na Ngonde) - 2012/12/17
Hi Yo
Sorry I have not been in touch sooner but it took me a while to get myself together.
Thanks for everything I had an amazing time. It has been a life changing experience. Give my love to everyone there and thank them for making me feel so welcome.
Missing you all already.
Mark (Kombe Na Ngonde) :)

FINALLY......!
- Dibobé - 2011/11/23
Dear Yo,
In the course of the last weeks I started remembering and reliving the visions of my initiation - finally, after a few months of complete abstraction! As if something burst open and Iboga visions are pouring into my perception out of their own accord. All this is utterly profound and irriversibly life-changing. I am receiving incredible insights, direct instructions and guidance from what feels to be the spirit of the Forest. I hear echoes of mongongo music at night which make me jump out of bed and start dancing, often till Sunrise! I could suppose I've gone completely bonkers, if it wasn't for the immense happiness, determination and inspiration radiating all over.
The effects of the mutation are so strong that my whole life is being restructured now. A profound healing is happening to me and to people who are somehow related to me. Long-term problems in my blood family have been miraculously resolved by the spirit of Iboga. I can speak of many things, but most importantly, I have been clearly shown my Path, my true Nature.
Glory to the Self-Effulgent Heart of all Being!
Namaste
Dibobé

Why Iboga needs a long period of initiation… compared to Ayahuasca
- Dibobe - 2011/08/01
On Aug 1, 2011, at 11:09 AM, I. wrote:
hi Bill,
i have been initiated into Bwiti at Ebando. i have to say the initiation is quite an extraordinary event in the time-space continuum and goes far beyond what the rational mind can figure.
Personally, if i am asked your question, i would recommend to spend a month in Gabon. it is a unique opportunity to come in touch with its spiritual heritage.
i found that the initiation is a deep and complex process which is not confined to the actual event of consuming the Plant and the duration of its strongest effect. to put it simply, there can be no rush in such a matter.
feel free to ask if you have more questions. ;)
I
On 1 August 2011 22:22, Bill wrote:
thank you, Ignat. I am grateful for your response and for your time. I do trust Tatayo and have no concerns really, other than a couple stories I heard of initiations being stopped because there was money or alcohol demanded, and people getting drunk. But most everything I have heard is very beautiful
. I understand there is time needed to quietly process the ceremony. Do you think if I stayed in Gabon 3 weeks it would be enough time? Also I was just curious what I'd be "doing" (or not doing) during my stay. I am just trying to imagine how it'd go after the ceremony. Would I just be by myself relaxing every day or ...?
I feel very privileged, honored and blessed to be facing this beautiful ceremony. Again, thank you for your insights. I'm very grateful.
Blessings,
Bill
Traditionally, the initiation ceremony involves the participation of the whole village. it is a family event, so, naturally, the to-be initiate should feel at home as he approaches that point. in case of us outsiders coming for initiation, a period of mutual 'tuning in' before the ceremony is essential. Ebando is a very friendly place - even so, at least around a week preceding the ceremony is commonly required to build a good level of resonance.
on the night of initiation we eat Iboga - the amount consumed and the length of consecutive extreme effects varies individually. in my case, i spent nearly a whole week in a profoundly deep lethargic trance. the process initiated by the Plant may be intense and unpredictable in some cases, so it's advisable to have as much time as possible for a gradual comedown and reintegration before finally setting off into the world. it is very liberal at Ebando, you will be free to stay quiet by yourself, to sing and dance, to interact with the people after the ceremony. it's really great if you have at hand the tools necessary to make your art. my experience taught me to take it very slow after the Iboga trance and not to leave the compound even if i feel inspired to do so. after the extreme effects of Iboga have worn off, at least a week is a decent amount of time to smoothly approach the exit, which is a beautiful ritual in itself. after that you'll be ready for some action. if you have extra time in Gabon, there are things to see - this you may discuss with Tatayo.
i was in Gabon for 3 weeks, which in my case was just enough for a well-rounded initiation. i wish i had more time to see the beautiful country - that's saved for the next visit.
Dibobe

Bwiti
- Gamal - 2006/05/03
Hello to every one who may read this I have read an e-mail that have been sent to Jan and it brought me back to the time i was searching for bwiti. My name is Gamal i reside in Canada and in 2000, i was looking through some photos that been taking by a french man, Laurent Sazy for a group initiation in Gabon. I was dreaming that one day i hoped that i could join the group in initiation .
I managed to get hold of Tatayo by phone and i trusted everything he told me and i decided to go to Gabon .
It was very important for me to trust Tatayoo and i felt safe, protected and previliged. I was treated with respect and i have been given choices that i felt they were too many .
Tatayoo took me to different fathers, but i chosed him. There were lots of steps or stages to go through until the ultimate one which is the initiation day, which no one knew. There were signs to tell that the day was a good day. One, was a restaurent sign reads "eat yourself" which was unusual to read. Two, the kids capture a green snake. Three, the coloured fased monkey spoted coming close to the village.
The preparation was big and detailed. Every one was busy including the children. A new harp was ready, the womens clothes and the facial expressions on every one's face all gave me a sense of how important the process to the people, and how important i was to them. My mother wrote sign that read "welcome our grand father".
I asked for the meaning and according to the Fangs legends, they originated from Egypt and here i'm an Egyptian coming to be part of their initiation. The impact on me was just beyond my expectations.
Actually ,
i did not have any expectations, just being initiated and experiencing it.
I was open minded and very focused and i knew that nothing will distract me from what i was going through. I have a lot more to talk about, but in point forms, I stoped smoking tobacco after 25 years, drinking coffee, taking headache pills and higher sense of self esteem. I encourage and support you to take the next step and join the party of your rebirth day!!
03 May 2006
Gamal
B.C,Canada
gamaleldin@hotmail.com

Daniel
- Josh - 2006/04/12
Daniel,
Hugues Obiang Poitevin is your man. He was the 1st white man to be initiated and now has Ghanga status. He was born french, went to Gabon 30 years ago for a couple of weeks and never came back. He now holds a Gabonese passport.
He is fully committed to Eboga and its importance to the world. There was a book published about him called something like the child of Bwiti which was only came out in French.
I love him dearly and he does fantastic initiations himself out on the point opposite Libreville... but is also perfectly placed to take people to the interior. He is totally trustworthy and does a proper job. I also think that his character and nature is inherently reassuring for people making the step...
His contact is :
Hugues - Tatayo - EBANDO : (241) 06 25 09 17 or (241) 06 07 06 30
web: http://www.ibogabon.org
email: ibogabon@yahoo.fr
Josh
12 April 2006
joshponte@mac.com

Bwiti
- Moukoukou MaMisoba - 2006/04/26
On 26/04/06 15:53, "Aerts Jan"
wrote:

Bonjour,
I received your email address through Hugues Tatayo, and he suggested that I contact you with my questions regarding the bwiti initiation.

........................................questions..........

I'm looking forward to receiving your reply.
Best regards,




Moukoukou MaMisoba wrote :
Date: Tue, 02 May 2006 11:46:16 +0200
Objet: Re: Bwiti
De: Moukoukou MaMisoba

Hello Jan,

Yours questions are indeed difficult ones! For Iboga is a very personal and specific experience for every one who wishes to become initiated although it does extend to the group present. It is an experience you share with your Father and Mother in initiation as the nights unfold.

What I can say about my self is that it has been one of the highlights of my life and believe me I've been around.

I wouldn't put it on the same level as witnessing the birth of a child or getting married or laid for the first time. It is something of its own. Some aspects are not so pleasant, you puke, you see strange images people through new glasses. As you might have read or heard initiation involves a symbolic death in order to be reborn again. When you are reborn you are a new person. In my case I could see what part of me I had lived with which wasn't me but just a facade I used to to get by in life ; a facade for others but also for myself. I came in contact with Bwete through Iboga and Iboga through Kudzu which is a plant supposed to help you get out of addictions.
I have been a drug user since my first cigarette @ 7 or 8 and moved steadily through the harder stuff and the crime that goes with it if one intends to have a decent daily supply.

My last stunt as I was working in Spain '99 relocated by the Bay Area company I worked for was the culminating point of my drug consumption. It didn't last long (well, four or five months) and my wife got me on a plane back to Paris where we use to live so that I would get on a methadone program. It worked fine at the beginning but it soon became hell. I was using methadone as a drug and drinking buckets full of the stuff. So after five years I was a psychological and physiological wreck.
Surfing on the net I found the email address of the lady who wrote the book on Tatayo ; Paroles d'un enfant du Bwete. I got on my Mac to ask her for more info and she suggested I get in touch with Tatayo which I did. I arrived late October with another chap called Phari and stayed for five weeks.
Not only was I initiated but before taken through the rite of the "Cutting of the rope" which has nothing to do with initiation although frontiers don't exist in Africa expect in the white's minds specifically when it came to sharing the pie. This rite breaks the bond with the evil which itself can come under different forms. In my case my parents and drugs. It was quite tough going but after that I was ready for initiation which I procrastinated until I had no methadone left. Hadn't I been such a coward I could have slid off methadone by taking little daily doses of Iboga which would have given me the opportunity to have a not so drug cleaning orientated initiation.

The Bwete initiation as such went quite hard for I suffered from the abstinence but nothing comparable to a cold turkey. I'm talking a 1 to 20 ratio. After that I was very very tired when I moved. When I came back to Paris (a different man from the one who had arrived five weeks earlier) I took a combination of minerals, sea stuff, oils and vitamins etc... Within four days I was jumping around in full shape but with my mind else where.
End January I had an Iboga night with the chap I had gone with (Phari) and two weeks later I had never been so on top of my life. Very positive full of energy. Methadone an old story.

Jan, if you have reached this stage of enquiring and asking for testimonials I think Iboga is waiting for you. It is not the case or the time for everyone. The first time I enquired with Tatayo the project went into a draw for four months. Iboga decides if and when. If one doesn't respect things can turn very unpleasant.
Also very very important ; the confession. Start working on it as soon as you can because when the moment comes you'll have maybe 30 minutes to spill out things (just prior to starting the ceremony). I wrote everything down (gee I though I had not been such a bad guy but in fact the list was quite consistent.

As for Tatayo he is the one and only you can trust on all accounts : his knowledge, the costs of the ceremony (it is as expensive as a wedding or a bar mitzvah, plenty of people to invite, fetch, feed, musicians etc.) The man takes his mission to heart where most of Ngangas don't go far beyond their wallets. The stories I have heard make you wonder if it is sound to put you initiation in the hands of a local. They rightfully have all reasons to fundamentally despise the white. Time will come I'm sure, but this very matter touches the deeps of the unconscious and that is where all the suffering of Africa is stashed.

Vais con Dios hombre !

Moukoukou MaMisoba




Bwiti Initiation
- Jan Revitsi - 2006/09/05
Last month I finally made up my mind and went to Gabon to have myself initiated in the bwiti tradition at Tatayo's place in Sablière.
I am grateful to all of you who have gone before me, and - in sharing your experiences with me - have given me the confidence to do the same. I am still struggling to make sense of what has happened to me in Gabon, and I expect it will take several months until I will know the full effect it will have on my live.
To Alejandro: thank you for your message. It was more appropriate and to the point than I could have imagined at the time when I first read it.
The very best to all of you my brothers,
Jan
Revitsi
5 September 2006
Jan.Aerts@ua.ac.be

RUSSIAN/INDO 6 WEEKS AFTER VERY DEEP INITIATION
- - 2011/07/17
YO!
Woke up just before sunrise today, feeling super-fantastic after some "rewiring" dreams. my "personality", or whatever they call it, seems to be very different from what it had been before communing with dr. Iboga. i cannot say exactly how, though, but people notice and say i'm a different man... who knows! i still have not remembered anything from my 5-6-day astral Bwiti adventure except a few indefinite dreamlike episodes and some flashes of what i may describe as "experiencing" the Universal Spirit. actually, i'm quite contented with this. these days my perception of time-space is sooo distorted that i don't think i'll ever remember anything - or even if i do, it will happen as an experience in the current moment, so i won't be able to classify it as a "remembrance"... a crazy empty-headed pygmy floating in the Unknown.. feels great! :)
br> please convey this good feeling to the gang of Ebando - Pemba, Muruba, Mavyango, Etudia, Mbilu, Konzo, Ngando, and whoever doesn't cross my mind right now but is also involved.
when you speak to papa Andre, please tell him he's in my heart.
(do i have to mention there's an especially alloted space for you there, too?)
PEACE
~i~

RUSSIAN/INDO transformed into inter galactic PYGMY
- Dibobe - 2011/05/18
YO!
missing you already, dear Papa! :)
i was recovering from malaria for a few days, now i'm fine.
want to thank you for the bwitiful experience in Gabon - i'm beginning to discover a mysterious influence of the initiation... mainly on habits - they are gone! i guess it's a new level of freedom that i have to explore and adjust to... will keep you updated and will write a kind of report when things get more clear.
warmest regards to all Ebando!
Keep in touch,
Dibobe

Australian 2nd Pygmy
- Ebando Na Muma - 2011/04/30
When I first became interested in Bwiti in 2010 :
it seemed that everything I came across led back to Ebando. I have no idea why i decided i would go to Africa and eat this obscure psychotropic wood. why i suddenly became obsessed with it i don't know. but i was, and most days i would be scrawling through the google, shirking work and listening to people playing the M'congo.
And all i came across kept spiralling back to this mysterious Frenchman named Tatayo. there he was in a documentary, there his name occurred in a random online blog. there his NGO's title appeared related to that video where three men vomit for ten minutes before the camera man becomes enthralled by a parrot for an unnecessarily long period of time.
About Iboga, of course, there is information a plenty. Through out the world there are treatment clinics geared towards curing addicts in a manner more permanent than cold turkey or born again christianity. But I had no desire to be cured. after all, there was nothing wrong with me, aside from the violent anxiety and utter terror I felt toward everything everywhere.
My interest lay towards the bwiti, the ritual and belief that comes tied in with the iboga. I wanted to see as far as I could into a religion that holds an intensely introspective psychedelic as its core sacrament. I've always had a lot of interests in religions that are not of the book, particularly those that come from central west Africa. And here was one that I could not only experience up close, but I could also get twisted out of my mind and, if lucky, dig around in all my buried trauma.
It also struck me that i'd be less safe going to a semi legal clinic in mexico to pay $7500, excluding flights, than going to Gabon. Plus, the clinics may have no idea. The clinics have been operating no more than thirty years, ever since Howard Lotsof found himself no longer interested in heroin after eating iboga. From what research I did it seemed that the clinics were run on a combination of medical testing protocol and new age quackery. It seemed also that more deaths had occurred in the clinics and western treatment than had in Bwiti rituals. Of course, that is in no way anything measurable, but it seemd that the clinics were both sterile and dangerous. Gabon was, ultimately, a far better destination. A twenty one day initiation cost me 2000 euro, excluding my debt to the minister for immigration. And it is money well received as well as well spent. You are clearly financing a large number of people to live which, up until the last few months, has been years of slim pickin's. you are financing musicians, dancers, n'gangas and fine young women who hit you on the legs when your shins catch fire and you're too full of iboga to put them out properly.
Not all the information I came across was positive. I came across the Isherwood slur during my searches, and wrote to him for advice. He suggested that I catch a bus into the jungle and find someone willing to guide me. This idea seemed reasonable to me for about five minutes before I thought, wait, that seems totally, hopelessly insane. Of all the good ways to get scammed, taken for a ride and shafted, that road seemed to be the finest. There is an abundance of stories of things going wrong during Bwiti initiation which has nothing to do with the iboga and far more to do with being white and foreign. Commonly people are fed only a little iboga, told they have to pay again half way through ceremony or have their bwiti Father get drunk. Often the environment, upon which a smooth journey is utterly reliant, can turn ugly and gluttonous. this is majorly to do with the fact that those who are initiation are not interested in their initiation, but in their money. And this aspect will fuck up many an initiation. Such a circumstance is not uncommon either, and nearly every story I heard about initiations done elsewhere where not positive ones. Ebando, however, in spite of the Isherwood slur on the Thorn Tree forum, had many recommendations from people in a smiliar situation to me, and each one was glowing. Of course, it was possible for my ever paranoid mind to assume that these were all fake, or that a few prize pigs had been treated well so as to give a glowing review of an otherwise shady scam. But my paranoia also often leads me to believe that my girlfriend is sleeping with all of my housemates and that the neighbours are stealing my thoughts. So I don't put a lot of stock in it.
I threw my paranoia aside and went to Gabon, and to Ebando.
In the end all was smooth and easy, the most surprisingly idyllic journey into one of the most marvellous religions and curative psychedelics in the world, without ever once seeming tacky, touristic or sterile. The world of Ebando is an honest one, a welcoming one, and one utterly tied into the Gabonese populace and culture. Tatayo's temple is an incredibly honest one, utterly desirous of opening as many minds and giving air to as many stifled souls as possible. Damn. Sounds like i'm promoting some kind of mormon garbage. Nothing of the kind. No, this is an actual road, without the shame and guilt-filled bonds of christianity and the restrictions of the other books and faiths which place rules above possibility. It was absolutely the road I had been seeking for a long, long time, driving myself insane by hating the pettiness of the life surrounding me and yet seeing no means to break free of it.
Early on during my stay in Ebando, Tatayo said to me that the Bwiti had a particular appeal to the west, as something some time ago was lost. And this I believe to be so. Whether that was that the christians ripped god out of the world and made him look more like a judge than the all of everything, or that God had since died or that all the witches had been burnt or that the new idols were made of plastic and built to be disposable is irrelevant. The kind of impotent frustration and rage I obsessed myself with since the age of twelve is well common across the western world, manifesting in a myriad of ways.
Ebando is the door, as much as the iboga, as much as the rituals to the Bwiti are. One of the great merits of going through Ebando is that the question is not economic. The priorities of Ebando is not to make as much money as easily as possible from those who come. Of course, money is a question, but it isn't the central question. The central question is of you and the bwiti.
I struggle for a word for God. God, while makes sense to those who speak English, seems to describe a distant and finite authority. God, as far as christianity seems to have told looks more like the Emperor Constantine than like the thing I speak to and now have a detailed relationship with. For a while I called it the everything, as that is what it looks like and what it is made up of. Since I met it face to face (though its face is infinite) in Gabon, I now call it the Bwiti, as it seems the name that compliments it most. It seems to be the part where my sub-conscious meets the world, the part of me which is of everything. This is what Ebando led me to meet, without a problem or an inch of difficulty. I saw my soul and a vast number of other things within myself without a single problem.
I did get stuck in the airport for eight hours thinking I was about to be deported, but that was one of those fuck ups that occur when you don't realise that a visa isn't enough to get into some countries.
I know of no other Bwiti practitioners that will accept foreigners and initiate them without distrust or cynicism or a desire to make a bit of money. Ebando is trustworthy in every respect. The guidance offered and the preparatory rituals make the build up towards initiation increasingly easy and by the time it came to eating the wood my mind was utterly at ease. The delicacy, consideration and respect given to Banzi (initiates) at Ebando make the whole experience one of comfort and security, while the rituals and performance conducted blow the mind. Being suddenly sat up to have someone play a harp on your head with an entire choir singing behind you mid ritual is one of the most strange and mind bending moments. All the activity conducted by the populace of Ebando is geared to guide your journey, and they do it incredibly well, with great energy and gusto.
The whole experience was life altering and I still dream of it often. I am now driven by the things I saw to return to Central west africa and to travel more, to see more and do more. I will definitely return again to Ebando, and I hope to guide as many others as I can towards the bwiti. It is like religion without the lies and manipulation, for it all happens within you. Ebando allows for you to experience the touch of the Bwiti on your soul. It is absolutely, positively mind-bendingly rewarding and an invaluable occurrence in my life.
I am grateful, utterly grateful to all at Ebando and hope that those who go there grow in number, that the understanding of Bwiti can spread across the world. In a time where God seems like the über-cop and the cheap synthetic sacraments of crack, methamphetamine and smack litter the world, something brutally honest is needed. And the only thing I know honest enough is the Bwiti.
Much love, Ebando Na Muma

To Everyone!
- - 2011/03/21
To Everyone!
Thank you so much for everything. You have given me the greatest gift one anyone could ever wish for. I am so happy and very grateful.
Words cannot describe my gratitude for all your kindness and love. Everyone has put so much effort into the process and I am overwhelmed how amazing and perfect my initiation was.
From the moment I picked up the phone and spoke with Tatayo and during the whole of my time with you until the end I felt relaxed, confident and positive everything was going to be fine.
I am happy to tell you everything I have experienced and been through is more than fine. It was fantastic in every way. I am more than good and full of love. I feel awesome!
THANK YOU THANK YOU THANK YOU THANK YOU THANK YOU !!!!!
What more can I say?

45 DAYS AFTER initiation in GABON
- The Birmingham cockney - 2011/03/02
45 DAYS AFTER initiation in GABON ....
Hey,
just quick note to say hi thanks and i hope all is well in ebando I have been good since my return,i am still a little unsure about how the initiation has effected me yet but so far things seem to be working out for me. I found it frustrating that being unable to speak more than a few words of french i couldnt communicate properly with most of the people whom i wanted to talk to.I want to send my deepest gratitude and thanks to you and all in bwiti/ebando brothers and sisters.
If i can do anything at all to help in any way pl just ask Im thinking of returning someday if thats ok with you?
Give Apindia a ....kiss from me pl
Much love and respect
The Birmingham cockney. I believe the Technical term is 'mockney' x.

A MESSAGE FOR ANYONE CONSIDERING COMING TO EBANDO FOR INITIATION
- Reliba (Sue - UK Initiate Jan 2011) - 2011/02/17
If you are wondering whether Ebando is an authentic, safe place to get your Iboga initiation, then do not hesitate a moment longer. I whole-heartedly recommend Tatayo and Ebando. This is an awesome opportunity for anyone, but particularly those who are English-speaking (or French), who are called to their Iboga Initiation in Gabon, since Tatayo is fluent in English.
Tatayo is originally from France, but I believe he has lived in Gabon for over 40 years, and held ceremonies for over 15. What he creates at Ebando is unique, bringing together traditions and people from different tribes and parts of Gabon, as well as new initiates from all over the world. Whatever is going on, the anchor point is Tatayo - his experience, his integrity and the goodness in his heart. He also has a great sense of humour, and he's honest & open about himself. I trust Tatayo on all levels, and this is very important, so that you can really relax and surrender to the process in your initiation - knowing that you are in good hands, and that he'll do all he can to give you your best initiation possible - and that your money belt is safe. Tatayo is very relaxed during the ceremony, which puts you at ease - he plays the clown, but he is also totally on the case.
The initiation involves 4 days of preparations - focusing on your intentions whilst being cleansed, and performing a symbolic rebirth. During your initiation the live music is incredible - and they play to you all night, right beside your head! You journey in the Bwiti temple - which is a symbollic boat partly in the garden and partly undercover - carried by the music, singing, dancing and 'Sacred Wood' to receive your healing... The rest of the staff at Ebando will do their part in taking care of you, and keeping the integrity of the Bwiti ceremony due to their passion for Iboga.
Whilst you may experience some culture shock and have to get used to the humidity, the bathroom is large & clean, you're right on the beach, and the fruit is delicious! But you don't come here for a holiday, you come for some kind of healing transformation with an authentic Iboga initiation, and this you will get. Tatayo knows what it is to be a westerner, and can empathise with our fears or challenges, and will help you in any way he can. He is often very busy taking care of all the arrangements, as well as the people in the extended Ebando family, but he will find time to answer your questions.
Tatayo is very fair with money. They do not seem to make any profit - Libreville is an expensive place, and there is a big Ebando family to support. I pray some grateful, wealthy benefactor will make a donation so that they could build some huts for visitors and staff. At the moment everyone is in tents or a dormitory.
My initiation was so beautiful. Even if its hard at times, you will feel brand new some time afterwards. I feel its the biggest, most important healing of my life, and that Iboga is the most powerful tool for transformation available in the world. Ideally you should arrive with time to settle in and get to know people (at least 1 week) and leave some time after the initiation to integrate your experience (at least 1 week in Gabon), and take it easy for a few weeks afterwards.
Of course everyone is an individual and will have different experiences, this is just my opinion! If anyone has any specific questions I'd be happy to answer if I can (As an anti-malarial, I took Malarone with no problems by the way).
I would also like to give an 'honorable mention' to Pemba, Tatayo's assistant, who works with such dedication.
Thank you Tatayo & everyone at Ebando - sending you a huge hug and wishing you all the best.
I really hope I will come back for more, before too long!
With love & respect
Reliba dia Miresi X

1st SWEDISH PYGMY
- Dibenga - 2011/02/14
Bazi!
How is everything? I hope that the holidays have been good and that the new year has started out well.
I posted a report of my experiences with you at some forums:
http://eboka.info/index.php?topic=674.0
I hope that I have inspired at least someone to visit you and that the information I've given there is accurate. Both of these forums are great and they could really need the knowledge from someone like you, maybe you could join them if you like.
Lots of love

2nd IRISH PYGMY
- Naro Pendia Conbe - 2011/02/14
My journey to Gabon to initiate with Ebando.org, Jan 2011.
I went to Gabon in Jan 2011, to initiate into the Bwiti religion. I felt very called to work with Iboga after having been introduced to it a few years ago. The ceremonies I attended back then changed my life profoundly. I have a rare chronic and terminal condition, by the name of Acromegaly. I had tried many different healing modalities, over many years, some that gave me relief and some that were not so effective. I did not find the 'cure' though - not until Iboga came into my life.... The plant worked with me in ways i just cannot describe - the synchronicities, the messages and the healings were so powerful, that words can do no justice to them. My life had changed forever and my illness started to loose its grip on me. It was a few years later that I was led to Ebando. Once this connection was made it was like everything flowed, the money came, the time came, everything just fell into place - so I knew I was on the right track.
For someone in my condition - weak, ill and unable to cope with extreme conditions - Ebando was perfect. It was reasonably near to the city and so travel to it from the airport quick and easy. And it is right on the beach - which was an absolute treasure of an amenity to have access to. To have travelled any further into the jungle would have been far too much on my system. Ebando was like a haven - and I think perfectly equipped to accomodate westerners. Accomodation is basic, but comfortable, and the bathroom is lovely!
Tatayo did everything to meet my needs, and more. I felt at ease with him immediately and I quickly saw that I could trust him completely. I now have a huge amount of respect for him, having been through this process with him. And I feel deeply grateful for his heart, his honesty and his humanity. His other great advantage is that being, white, - he implicitly understand the western mind and western needs. This reduces the cultural gap greatly. And so for westerners coming to such a culturally different place as Africa - Tatayo is a blessing that bridges that gap - so that westerners can just concentrate on their process, instead of being swamped with culture shock.
The initiation itself was incredibly powerful for me. The ceremony which lasted a few days, of itself, was amazing, and led by the very competent and sensitive Tatayo, and his group of musicians and ngangas. Iboga cleared mountains of junk out of my system - quite shocking in fact. I purged a huge amount. And while at some points it was challenging and painful - of course it is also AMAZING to be rid of this crap! I came out the other side, feeling like a new woman - pure and happy and very centered, in a way I have never been before in my life. My visions clearly showed me my path in life and the experience has made my focus is very strong. Since the initiation a month ago - I have seen profound changes in my life - for a start, the last of my addictions are simply gone. I feel peace in my body, my heart and in my head. And, I know that my illness, (a so-called incurable illness) is almost gone. I have experienced nothing short of a miracle.
I feel a huge amount of gratitude for Tatayo and all at Ebando. I have fond memories and I look forward to going back hopefully in the not too distant future.. And I am, of course, utterly humbled by Iboga as well as astounded and massively grateful for the gifts that this plant has given me. I know that I am truly blessed.

ENGLISH BWITSY PYGMY 3 months after initiation....
- KOMBE DISSOSSA NZAMBE - 2010/10/07
I'm very happy since initiation !
by the way and magik is happening all around me.
I am full of light and love!
Thank you sooooo much!
Much Bwitiful love xo xo

AUSTRIAN PYGMY 36 MONTHS After initiation... !
- ONGONGO BOTSADI - 2010/10/07
Hi man,
It's been 36 months since I left Gabon. I built a house, quit my job, quit my troubling relationship, and life was as happy as I've never been before. Started out new by becoming a mountain guide,spending my time wandering through the Alps and having time for myself.
....I guess Gabon gave my life a new flavor although I don't know what happened in those nights when I was eating the Bwitter plant with you fellows.
It still gives me cold shivers thinking of it and at the same time I get a warm feeling by the thought of coming back from my trip and feeling the warm, gentil hands of my brothers that are directly connected to their hearts....love peace and happiness,
One day i will return....

TESTIMONIES ABOUT TATAYO on Lonely Planet (forum for travellers) : ignominious isherwood's attack followed by TATA DEFENDERS (starting at #9)
- Tatayo - 2010/10/06

UK pygmy sends love !
- - 2010/06/28
My Bwitiful Crazy FatherBrother, Bwakaye! All is very good here in the English jungle. No, all is better than good, all is amazing! Can I ask that you send my love and thanks to everyone that I didn't say goodbye to, to pemba, mutoba, bongema, maviango, mugoba, menge, - the list goes on, please just send my love to all, and plenty for yourself as well. .................................................. I am doing, and will continue to hold the light that I received at Ebando with the best efforts of my heart. It seems that light must be shining as when I got home there were three new people writing to me to ask about Bwiti. I think there may be a few English pygmies coming to see you in the near future. The Bwiti fire that has been burning gently in my belly these last years is now a large beautiful fire that is burning bright and I am already thinking of how I may be able to return next year. I think it is a real possibility that I may be able to organise a trip and accompany a few banzi's out there, already I have a bwiti sister here who has said that if I can organise something she will come. Lets see, its a very nice idea! Also, the idea of planting the Wood seems to taking shape, I need to speak to a couple more people about it but there is a possibility of planting in a large tropical greenhouse here in a couple of years time and also a possibility of planting in Portugal and Spain - I will be in touch as soon as I have more news on this. I spoke to Kombe (C....) yesterday, she is in a very good place. She sent me a card, and I quote from it here "things are different and its all good. everything is working out perfectly and I no longer posses lots of silly/bad habits I had before my initiation. I cant describe how beautiful I feel and am overwhelmed with honor and gratitude for everything. Everything is bwitiful and now I am free like a bwitifly. I am such a lucky girl" - an Iboga success story I think. How is my little sister E…..? Please send her my love and tell her to get in touch when she returns to London, I will try and look out for her. Maybe also you could send me the email for s…- maybe I can ask him to bring a few little presents out for you all. And if you have contacts for any other pygmies in the UK it would be nice to try and strengthen and build the family here. I feel I have a lot of questions that I would like to ask you, but its late and I want to go and get into bed with my wife, so I will write again very soon. much p.-m love

MEDICINE MAN
- Medicine Man - 2010/06/15

ONG EBANDO
- tatayo - 2010/06/09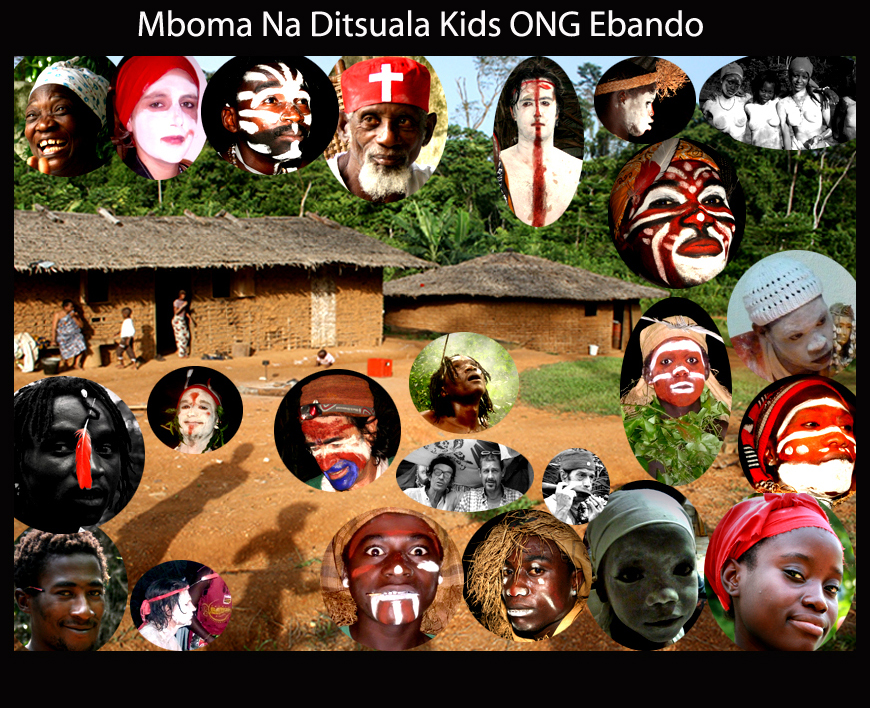 Life is Eternal
- kombé - 2010/06/09
Tatayo,
I arrived home midday Saturday. My wife and children are well and everything is fine here.
Hello everyone.
Just being in Gabon for a short time was very refreshing. The work that we are doing requires favourable laws, like those that exist in your country, and in some Central and South American countries.
Australian law, I have recently learnt, states that all seeds, including vegetable seeds, brought into the country by a citizen will be, at the border, confiscated and destroyed. This policy was un-beknown to me when I was in Gabon and unfortunately the seeds of the wood, that we gathered in the village, underwent this process on arrival in Australia.
People are becoming more and more imprisoned and are deluded that they are free. There is only one thing that can destroy the delusion of ignorance and that is enlightenment. The seeking of enlightenment should be our prime concern.
Fortunately, we do not even need to seek, for we already are the enlightened nature. It is always part of us. It never fails us, it never dies. All we need to do is get rid of the false belief of birth and death. Once we do that, the eternal enlightened nature, common to all phenomena, shines through. It's all very simple.
Society teaches the opposite of this. That, beginingness, maturity, old age and end is the only reality. The truth is, the cause of all human sufferring arises from a belief in this concept of beginning and end. Life is eternal, we are immortal - nothing more need be said.
I want to thank you for translating my words whilst we were together. You purely translated without adding any of your own thoughts. What you are doing in the garden, in the grove within the temple grounds, is unique. You deserve to be called the sage of Gabon.
Respectfully,
Alan [Kombe]

YO TATA!
- Demania (Justin) - 2010/01/24
YOYOYO

TATA, I have been meaning to speak with you, but for some reason, my phone will not connect anymore to Gabon after many attempts.



I am sorry for my silence and lack of response with work, I have been going through a "dark night of the soul" as they say.

I feel that although I learned much in Gabon, and that my life has changed, I feel that I wasted my opportunity to truly learn and get answers from my initiation. I feel that I put shame on myself and others by not following the simple rules that were given to me, and therefor was not ready to receive the lessons I came for. I can say maybe it was fate, maybe it was me making a bad decision, but either way I must say that I came to Gabon to have a vision of the self... to understand my purpose here on earth and how I could best serve the world with that purpose. Maybe I had too many expectations as to what would happen from initiation, but like I said I think that I ruined what might have been there by not following the rules that you and Pemba gave me. I don't think I was truly prepared and focused, but I am very happy that I came for initiation in Gabon. I know for sure that I am not happy in Babylon, and that I wish to have a life full of happiness and higher purpose. I do not find great pleasure in the things most people my age do: alcohol, drugs, and sex mostly. I know from being in Gabon and living there for a short time the type of lifestyle I would like: simple and clean and full of LOVE! ! !

I still remember strongly the night of my initiation ... If I had understood what I do now, I would have tried to keep going, but that is for the future...

Trying to figure out how to make a living, be happy, and most importantly, have freedom in my life right now. I can only imagine right now if you are reading this you are no doubt bored, haha.

Don't worry I won't ask you any silly questions, just wanted to share my experiences.


I promise I am not forgetting you!! sorry everything is taking me so long!

Demania






NEWS UPDATE! RECENT HAPPENINGS/PHOTOS/MEDIA FROM GABON!!!
- !!~*LE BWITI*~!! - 2009/10/31

Blessings and Services I experienced at the Ebando
- Bovenga Na Muduma - 2009/09/24
Dear Tatayo; Here is a sincere letter of advocacy and testimonial to the Blessings and Services I experienced at the Ebando. Father NDongo; I need to express my gratitude to you and to all my fellows in the village. I now feel I am completely part of a new Family, and this is a kind of Blessing I've never dreamed of receiving. Only Iboga could show me how complete the Blessing is. You, Papa André Mama Lucie and Pemba gave everything to me, I felt you emptied your Selves into me so that I could reach so far. As you know, I had been with the Iboga Spirit before, but I needed my Bwiti. During my initiation I truly connected with my Composition. I now understand what I came from, what I have done so far, and what is expected of Me now. The best part is I now have a supportive and loving family in your Village Ebando--the is is Now and Future Context for my life. I am urgently living this life in the West so that I may come back to you sooner. My experience in the Bwenzi has fulfilled me. I saw the Way and I will follow it. Thank you for my Birth, my Deliverance. You continue to Bless me. Yours;

GABON TRADITIONS
- GABON - 2008/11/28

MUSIC & Film .... GABON TRADITIONS
CD: GABON PEOPLE
Side B Track (7): Minvoul; Track (2): Ikobe II; Track (18): Mongongo Publisher/record label: Flatworldmusic@mac.com
FILM ... Josh Ponte. The film recorded in Gabon is now being edited in ..."THE LAST DANCE" 47 minutes from 100 hours of Filming !!!
Gabon Magazine: Alive With The Sounds of Music




I just want to say
- Opunga yaro mbene - 2008/12/30

Hello Tayato, its your son Opunga yaro mbene,
I just want to say that I love you & bwiti, Thank you & bwiti for coming into my life, I know we will dance in the cosmos, where we will rest & smile,
I want to Work with the Holy-wood Father, and free people like I was freed, from pain & Suffering.. I am in your servive Tayato
also I am going to grow the holy-wood in Peru in secret so its closer to Ayahuasca,
I hope to see you again in this life & meet pygmy
opunga yaro mbene
Ecrivez nous pour contacter l'auteur - CLiquez ici


hello bwiti brother
- Opunga yaro mbene - 2008/11/26

Hello Aston,
my name is Eoghain or in bwiti Opunga Yaro Mbene its exactly a year since my trip to Iboga in Gabon
my bwiti father Tayato send me emails about your possible TRIP OF FREEDOM to Gabon, I would like to share my experience with you
the Iboga experience is a difficult one but so rewarding when you come out the other side and look back it is beautiful or as Tayato likes to say Bwitiful,
I was suffering from child abuse --- depression(repression of thoughts) -- -substance abuse and going now- where with my life.
now a year later i feel F##ken great(please forward this to tayato as i know he will laugh at my use of language) I got married and have a beautiful baby girl all since i took the holy wood in Gabon with Tayato, i haven't drank alcohol or taken any sort of crap in a year
I hope you can see the chain that i had to break through and i did this by choosing to take the road of Iboga that few have taken but that many seem to be now called forth for.
what Iboga does, well this is my experience in a nutshell is peels open you Ego, taking you inside to the darkness to the root of your problems, lets you spend some time there and them takes you on a personal spiritual journey to and delivers you home as clean and free as you can every imagine.
one thing I would advise and this is from my own experience is to detox your liver with milk thistle before you go maybe twice as the heart and liver do the most work.
Trust in yourself and your Guides, you are already half way there, to being free and seeing the true reality of yourself and the Great mystery that life IS...
as for the logistics i spend a year researching where i would go to be initiated and thankfully i was guided to Tayato, and his bwiti family.
he is one of the best, kindest, loving, honest, human beings i have met on my adventures and believe me i have had a few !!!
for some reason Gabon is really really expensive you wouldn't think it from an Africian country but it is. what Tayato offers is amazing and a very fare price
my number is
00353863916235(mobile)
003532495726(after 6pm)
if you would like to speak, more you are welcome brother !!
kindest regards Eoghain O Horgain opunga yaro mbene

about pygmy initiation
- Shiou An - 2008-08-16
TORKEL IS SWEDISH, HE WANTS TO COME OVER FOR "AUTHENTIC" INITIATION, SHIOU WAN (KOMBO EMANA-MANA ) from SINGAPORE JUST LIVED INITIATION, AT PYGMIES in THE DEEP FOREST and AT EBANDO's VILLAGE, SHE TELLS US HOW & WHAT ! Hi Torkel Thanks for your mail. Yes, I recently had a chance to have Iboga sessions both at the pigmes village and Tatayo´s place (Libreville). I went there with my yoga teacher thinking the same as you to get deep into the jungle to have Iboga initiation by the local natives. I was quite disappointed there as these pìgmes have captured the bad influence from the west. They refused to continue our initiation ceremony when we did not offer them alcohol even though this arrangement was discussed and agreed beforehand. Both my teacher and I are vegan, we drink no alcohol nor coffee/ tea. And we see that alcohol is definitely not good with the spiritual medicine. Tatayo had to compromise to offer them nescafe and liquor, got his own musicians to initiate and energise the ceremony. One the initiation was done by Tatayo´s team, I had to agree that the pigmes started to pour their hearts in to give us the best dance and singing. The energy level was so high that we could both feel the healing vibration through the earth and get connected with the plant spirits. Unfortunately, towards the end of the ceremony in the morning, there was a stoppage again as no one could find the chief of the pigmes. They did not know how to continue further. After an hour search, they found him drunk… We came back to Tatayo´s place deciding to have another initiation with Tatayo. This was the right decision made. They gave us full attention and went through the same, if not more, traditional details. We had our floral spiritual bath, they dressed us up in a traditional way, there were singing and praying session, Iboga eating session, dancing, etc. Throughout the initiation, we could feel their tenderimg care and love given to us. When we looked at the musicians, they played music and danced with their full hearts. 2 days after the initiation, I had sharing of vision in the garden, all gangas and musicians were present there to listen to my vision sharing. When they confirmed I had seen the bwitti, they suggested a kompo (bwitti name) for me. They spent time to discussed the best and most suitable kompo. Lastly, they conducted another dance ceremony for me as a grand finale. More dressing up, singing, prayers and dancing. This time, I need to dance with them, a chance to learn the African dance in action. The entire experience with Tatayo´s group was just beautiful and full with love Regarding the cost, Tatayo suggested us to stay there 5 weeks for EUR 5,000 for two persons. He said, 5 weeks is comfortably adequate, 4 weeks is just nice and 3 weeks will be just sufficient if nothing goes wrong. I had to agree to this point after my stay there as the pace in Gabon is very very slow. Due to our job commitment, we could only have 3 weeks there. He suggested EUR 3,375. We paid him EUR3,450 eventually (for some special reason). Hope you have a nice time there in November. Om Namascar Shiou An

thank you
- Shiou An - 2008-08-09
Hi Tatayo Matej and I have arrived in Slovakia yesterday. We have completed the tiring flight journey. And Matej is also recovering from his Malaria sickness gradually. I would like to take this opportunity to thank you for helping me on my Iboga initiation, trip to the pigmes village and the grand finale of the famous Africa dance ceremony. These will be very memroable events for me. I will not forget any of them. Please extend my sincere thanks to Olga and her two beautiful daughters. They have taken so much care of me during my initiation (2x). It was a pity I did not have the opportunity to say goodbye to olga in person. I am still thinking deep about my vision. The universe man said, "don't change the system!" I believe there are deeper learnings for me. I cannot comprehend everything now but day by day I will try to unfold more learnings. Have you heard from Bobo yet? Hope she comes back safely. Lastly, please say hi to all the musicians, Claire, Eleanor, Zovana, Willy and all. Hope to see you again in future. Om Namascar Shiou An

the Tree of Knowledge
- Angel - 2008-08-03
I probably wouldn't be the best one to answer how it is ingested as my experience is limited to Gabon. There we ate spoonfuls followed by drinking water or juice to wash it down. Eventually the taste became hard for me to take as it does have a number of alkaloids. Some don't mind, for me it became pretty rough. Describing an Iboga initiation would be difficult as the experience is relative to the participant. What I experienced/gained was different than that of the others who were also having an initiation alongside me. There is little that I can compare it too, even modern psychedelics don't compare, for although you are in another plane you still have the ability to think straight. For me it was both the greatest and the worst experience of my life. Afterwards, it was if I had meditated for 20 years straight, nothing could faze me and I had insights into things that were problem areas of my life. I suppose if I was to describe it, for me, is that it was very much like what is described in Buddhism after you die and travel through the various stages: http://www.near-death.com/experiences/buddhism01.html Personally, I have no doubt that the Iboga root is what was described in Christian texts as the Tree of Knowledge "But of the tree of the knowledge of good and evil, thou shalt not eat of it: for in the day that thou eatest thereof thou shalt surely die." -- Genesis 2: 9, 16-17 (KJV) Of course, these are all only my opinions. I know little to nothing of the programs offered in other countries. I am a treatment professional and have been in the industry for years, but still know little of the other Ibogaine treatments. The reason i chose Gabon was so that I would have the accompanying rituals. Without that, I can't say for certain if simply ingesting the root would have the same benefits. I do believe that it is a spiritual experience and can't imagine it taking place in a clinical setting, although that's not to say that clinics are not effective. I cannot emphasize enough, that if you have the opportunity...travel to Gabon and experience it there. It will be, at minimum, a life changing experience.

Answer: Is Iboga available for sale
- Moabi - 2008-08-02
Angel, Tatayo forwarded your email to me. I participated in an initiation in Gabon in January and did manage to return with a small quantity for personal use. If you are flying out to partake in an intiation, there is the option of purchasing Iboga root itself in Gabon (speak with Tatayo). However, be informed that Iboga is a Scheduled drug in the United States and, as such is illegal. Since it does look like ground up bark, I don't think that any airline or even drug agency would know what it was. I had no problems bringing back approximately a kilogram. The best suggestion I have for you would be for you to go to Gabon and participate in an initiation guided by Tatayo. Afterwards you could bring back a large quantity of Iboga, using it as packing materials surrounding ceremonial articles such as masks, instruments, etc. It would probably be overlooked in that case. I haven't ever heard of anyone getting into trouble bringing some here, but there is always that risk. I certainly hope you are traveling to Gabon for an initiation, and wouldn't recommend anyone else but Tatayo for westerners. He will make the experience safe and thorough. Good luck to you in your journey.

Is Iboga avail for sale
- anonym - 2008-07-23
Hello Tatayo I am still waiting to here from revadadiwa whom you told me to write to regarding my initiation. My name is Angel I am a hypnotherapist and Reiki Master in NY as I said I want to open a healing center in Canada where I have an apartment but I am currently seeking a loft space or house in order to treat people that have drug addictions. The problem is I cannot find Iboga I found it in HCL form which is like a white powder 98% pure form but it is so expensive only the rich will have access to it. Is Iboga avail for sale in Gabon or any place that can be trusted. If so can you help me contact them. Treatment centers are charging from $2000 to $5000 plus air fair. I really want to make the Iboga treatment avail to more people by lowering the price. Maybe even take in donations to help poor people get treated its just not fair that only the rich or well to do will experience the sacred root. I would appreciate any ideas you may have. Thank you very much for your time. Sincerely Angel If you wish to speak on the phone I will call you just tell me what time NY time to call you over there I do not know the time difference take care my brother in the light.

Naarden, 26 june 2008.
- VIVOÏ - 2008-06-26
Dear tatayo, Here a voice from boring Holland . A nganga who doesn't feel like a nganga. The stupid thing is that I didn't knew that I "toke" iboga and now I am spelled by Somebody who drinks virgin blood !!!! For god sake: can you help me or advice me??? You send me e mails from Jan from Belguim and from somebody out of Holland . What got I do with it? What got I do with this information? You told Jan that you "had two dutch pygmies" and that they would inform him about you. What should I tell him? I did not have the feeling of making contact with him. After all the whole situation was very confusing. People wanted to fuck me and even the pope was included. They were looking for Motherfuckers and could not handle Europians who wanted to stay for two or three weeks. Those people ran away completely insane. They even had to lock for emotional help in there native country How is life at the moment. I really don't know what to do here in Holland . It is also good that I am here and that I left Gabon . René didn't dare to take iboga in his suitcase. When we left the airport he was taken out by the customs. When they asked him the question "if he travelled alone" the idiot said "no".Even that he knew that I got the wood. Than the asked for me and who I was. Lucky enough I had already passed the customs. Here it is the same as in Gabon . A life without a view. I need to take initiative. It is as boring as the time as was with You. But with you I was waiting for the initiation; so I had an alibi. Lesson one: "How do you fool yourself?" I have the feeling that I can book the return flight rightnow. How is Mengé at the moment. I hope that it is soon done with Dunhill and that she can get in peace with herself. If she is going to chose for the initiation; let me know!!! Love to everybody. A flying dutchman who seems to have a nganga name. Vivoi ya nobiko Till soon and all the best, Wilhelm. By the way: you can send this message to Jan if you like.

I have a newfound peace and joy
- Okukue Na Aniepa -
Here is my witnesses evidence for the ebando website! I have a newfound peace and joy in my life now!...and I owe this to Tatayo, Papa Andre, and all the bwitiful people that are part of their family at the ebando village. Before I came to Gabon and ate the Holy wood, I had many doubts in my life, much anger and confusion, and little love. With the help of these loving people (the happiest people I have ever been around), I feel that I know how to live now! I love Bwiti, and I know that I will be back in Gabon at some point in the future. It is a beautiful place with beautiful people...Thank you so much!! LOVE Okukue Na Aniepa

reborn by Iboga
- Eoghain -
Hello A, my Name is Eoghain "eoghain o horgain" , or reborn by Iboga initiation:: Opunga mi ebene in Gabon last year with Tayato, the best deals are from Europe holland via morocco or just bite the bullet fly air France paris-libreville, I would say to you to fly air France because I took the cheapest flight possible and it ended up costing me 1200 euros because went i went to leave gabon there was NO FLIGHT for me, if you decide to go to Tayato´s village about 2000 for a month is good because Gabon is really expensive Tayato includes everything in the price, and is one of the best people i have met in my life, the care and attention he gives everyone is really special, if you need any other nitty gritty details about the initiation please ask me, my initiation was last october and it still huants me !!! But i wouldn´t change anything.. Kindest regards Opunga

AUTRICHIEN became PYGMEE !
- Lukas -
OCTOBRE... AUTRICHIEN became PYGMEE ! "hey tatayo, iboga is still working and my life is just perfect! a lot of peple are interrested in it and im recumending you highly! thinking of it from a distance more and more i see what a great job u do, your work is professionell! your a good guy, i will come back some day to take more iboga with you...but right now i still get cold shivers when i think of eating only one spoonfull....love peace and happyness! Lukas

Graphic letter
- Judith - 2007-10-01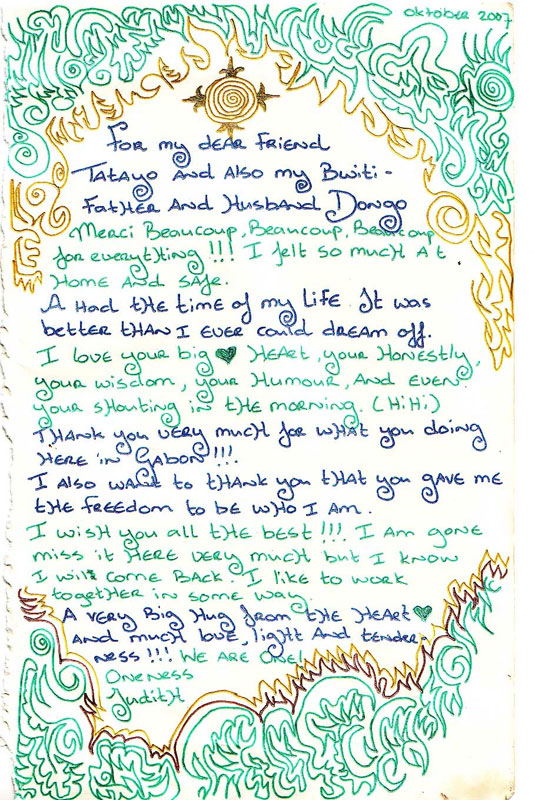 I wanted to share this piece of intimate knowledge …
- Jan - 2007-11-30
Dear All, I wanted to share this piece of intimate knowledge with the Bwiti community. I hope it will be of value to all those who have difficulty adjusting to the real world after the Grand Experience. It is derived from a book by Dan Millman entitled 'Sacred journey of the peaceful warrior'. Everything between brackets [...] are parts left out, or my own insert. "Certain mystical techniques and substances have been known for centuries to provide glimpses of the upper floors [heart chakra and above]. These are best treated as sacred, rather than recreational, activities; they can be useful as "previews of coming attractions" . Many well-intentioned, lonely, bored, or desperate people generate spiritual experiences through a variety of techniques. [...] But then what? What have they got? They return to their normal states more depressed than ever. Spirit is always here, always with us, around us, inside us. But there are no shortcuts to this realization. Mystical practices generate heightened awareness, but if experiences aren't grounded in a responsible life in THIS dimension, they lead nowhere. [...] You meet the Higher Self [...] by becoming the Higher Self. This process cannot be forced, it happens of its own accord. Daily life is our training ground. [...] Spirit gives you everything you need, here and now. You evolve not by seeking to go elsewhere, but by paying attention to, and embracing, what's right in front of you." Peace, Jan

radio shows about my work with ibogaine
- DIMITRI -
FROM DIMITRI - MOBENGO: TWIN thought you might want to hear these radio shows one about my work with ibogaine heard by over one and a havef million …the other about my music love MOBENGO This American Life piece on my work with Ibogaine sared plants http://ibogaine.mindvox.com/Media/AV/SinkOrSwim-Ibogaine.mp3

All praises to Bwiti for leading me…
- C.moore - 2007-11-22
All praises to Bwiti for leading me, changing me, making me. All praises to you and your crew for showing me this wonderful life. God has blessed me with many signs and visions to what I should do next. The wonderful part is it involves seeing my Bwiti family again! I have a brother in South Africa who used to run the drug scene, now despises it. God brought us together and has shown me sense then that the path I need to take is establishing a center for Bwiti in South Africa. But there is more I need to know! I opened a book, as Olga says, I must memorize it before I teach it. I hear that Dimitri will be at your place in January, to help with questions on urban Bwiti. I want to return in January for a couple weeks, to acquire, firstly, more knowledge, secondly, some plant material, thridly, some weaponry (instruments), fourthly, travelers (I want to do real Bwiti, real Bwiti needs real Ghanga's) Blessings, blessings, so many blessings, Looking forward to returning to the center of the world and the center of my heart, obwenina

MORE MIRACLES !
- anonym -
TWIN Young girl Nicky is doing great ...no need for drugs first time since she was 12 ...she says she know that God loves her and she and everyone is worth love...tears cloud my eyes ....God is Good Bwiti is true......love to all love to you Mobengo Answer : YOYOYOYOYO !!!!!!!!!

Brothers and Sister in Bwiti!
- L. Mathis - 2007-11-11
Yes, thanks to Tatayo, who went through it with me… Without his support I would not have finished! I'm so glad I did, life is great and things that used to be problems now are very easy to deal with! Love to all of YOU ! Ongongo

AFTER INITIATION IN OCTOBER AT EBANDO's .....
- C. Moore - 2007-11-01
I got here safely, excited for my new life but missing my family in Gabon. Truely life is bwitiful. Thank you for everything, I will start working on the website tommorow. love Obwenina….
(later) More and more I learn from the root, and more and more I give praise for my life and my salvation. Truly, life is bwitiful!>br>Thank you, thank you, thank you, can't price smiles can't control joy freedom is infectious a disease to end all disease May the miracle workshop keep pumping out magic obwenina

COST: GUIDES,CAR,CEREMONY, SHORT TRIP VS. LONG?
- Josh -
7°> HEY, JOSH > I'VE SPOKEN TO TWO PEOPLE WHO HAVE BEEN TO GABON, AND HEARD TWO DIFFERENT STORIES. > MY FIRST QUESTION IS ABOUT COST: GUIDES,CAR,CEREMONY ? > ALSO A SHORT TRIP VS. LONG. IS IT "COMMERCIAL" IN COMPARISON: TO > ONLY TRAVEL 10K. IN. MY SHORT CUT IN PERU WAS NOT SO COOL. > DO YOU THINK 2 WEEKS IS ENOUGH TIME, HAVING DONE IBOGAINE BEFORE I > FEEL LIKE I MIGHT NEED A FEW MONTHS... > THATS GOOD FOR NOW. > THANKS JOSH, > A. A. How did you get my details? I recommend you contact Hugues Obiang Poitevin (email above), He can sort everything our for you, whether you are interested in ceremonies or an initiation for you... He will give you choices as to where , when and give you more details on the costs etc. He also speaks English - in a very special way... Where are you from? Hugues will also protect you from "Commercial" tradi-practitioners who may exploit a foreigner just arriving in Gabon on their own. He would save time and the potential risk of getting ripped off. 2 weeks is enough time just, but longer is better.. J. > Hey A., As far as Hugues(Tatayo) goes, I would trust him with my life (and indeed have). There is no-one better placed to bridge the gap between western traveller and Bwiti. I spent 6 years there and have travelled all over with him. He made everything easier and got us access that would have otherwise been impossible. There are more people dipping a toe into the ancient ways of the Gabonese people... it is easy to get it wrong and have a pretty rough time. Hugues will do everything in his power to make sure you get the most from a trip if culture/tradition and rituals is what you are after... Just remember, if you do make it there, you are still one of the first to go. It's unlike anywhere else on earth but you need a way under the surface otherwise you won't see anything... Hugues is the best person I know to get you under the surface. best Josh

The strangest thing happened to me last night…
- Jan Revitsi - 2007-08-01
M'bolo Tatayo, I hope you are well and are having lots of new banzi over at Sablière to be initiated. In the past year I have received quite a number of enquiries about Bwiti. Most were given my email address by you, but some just stumbled upon your website, found my email there and wrote for information. I answer these emails as best I can, and typically 2 to 3 messages will be written. Then all communication stops, and so I never know whether these people will pursue their dream of becoming initiated. The strangest thing happened to me last night, and I feel compelled to write you about it. I had asked my higher self for a dream-message (I work with an alphabet dream code), whereupon I was awoken in the middle of the night for no apparent reason. While still not completely clear-headed I heard the audible sound "A", I don't know where it came from or who made the sound. In my code A = Avarice, these messages of course need interpretation, and the next thought that entered my mind was that I still owed you money. You must be a Very Important Person in spiritland, as 'they' sent me a message urgent enough to wake me in the middle of the night and make my body or my room make sounds of their own accord. So please respond to this email message, and I will send you the 1000 EURO that I promised by Western Union. I release you from the obligation to use it for an environmental or social project, and give you the money to spend as YOU see fit. I am confident that it will end up being used in service to mankind. Greetings and blessings to you, warriorspirit. Jan

finally made up my mind and went to Gabon
- Jan Revitsi - 2006-08-01
Dear all, Last month I finally made up my mind and went to Gabon to have myself initiated in the bwiti tradition at Tatayo's place in Sablière. I am grateful to all of you who have gone before me, and - in sharing your experiences with me - have given me the confidence to do the same. I am still struggling to make sense of what has happened to me in Gabon, and I expect it will take several months until I will know the full effect it will have on my live. To Alejandro: thank you for your message. It was more appropriate and to the point than I could have imagined at the time when I first read it. The very best to all of you my brothers, Jan Revitsi

it would be nice to hear from someone who has already undergone the ritual.
- Moukoukou MaMisoba - 2006-05-02
Jan Asked: I received your email address through Hugues Tatayo, and he suggested that I contact you with my questions regarding the bwiti initiation. I am convinced that the bwiti initiation is something I want to do, but still it would be nice to hear from someone who has already undergone the ritual.So, could you tell me something about your own experience (in as far as you are allowed). How did you come into contact with bwiti, how did you prepare for the ritual, how long did it take, how did you feel, how has the bwiti ritual affected or changed your life, was this what you had expected ? I'm looking forward. Best regards, Moukoukou MaMisoba
answered : Hello Jan, Yours questions are indeed difficult ones ! For Iboga is a very personal and specific experience for every one who wishes to become initiated although it does extend to the group present. It is an experience you share with your Father and Mother in initiation as the nights unfold. What I can say about my self is that it has been one of the highlights of my life and believe me I've been around. I wouldn't put it on the same level as witnessing the birth of a child or getting married or laid for the first time. It is something of its own. Some aspects are not so pleasant, you puke, you see strange images people through new glasses. As you might have read or heard initiation involves a symbolic death in order to be reborn again. When you are reborn you are a new person. In my case I could see what part of me I had lived with which wasn't me but just a facade I used to to get by in life ; a facade for others but also for myself. I came in contact with Bwete through Iboga and Iboga through Kudzu which is a plant supposed to help you get out of addictions. I have been a drug user since my first cigarette @ 7 or 8 and moved steadily through the harder stuff and the crime that goes with it if one intends to have a decent daily supply. My last stunt as I was working in Spain '99 relocated by the Bay Area company I worked for was the culminating point of my drug consumption. It didn't last long (well, four or five months) and my wife got me on a plane back to Paris where we use to live so that I would get on a methadone program. It worked fine at the beginning but it soon became hell. I was using methadone as a drug and drinking buckets full of the stuff. So after five years I was a psychological and physiological wreck. Surfing on the net I found the email address of the lady who wrote the book on Tatayo: Paroles d'un enfant du Bwete. I got on my Mac to ask her for more info and she suggested I get in touch with Tatayo which I did. I arrived late October with another chap called P… and stayed for five weeks. Not only was I initiated but before taken through the rite of the "Cutting of the rope" which has nothing to do with initiation although frontiers don't exist in Africa expect in the white's minds specifically when it came to sharing the pie. This rite breaks the bond with the evil which itself can come under different forms. In my case my parents and drugs. It was quite tough going but after that I was ready for initiation which I procrastinated until I had no methadone left. Hadn't I been such a coward I could have slid off methadone by taking little daily doses of Iboga which would have given me the opportunity to have a not so drug cleaning orientated initiation. The Bwete initiation as such went quite hard for I suffered from the abstinence but nothing comparable to a cold turkey. I'm talking a 1 to 20 ratio. After that I was very very tired when I moved. When I came back to Paris (a different man from the one who had arrived five weeks earlier) I took a combination of minerals, sea stuff, oils and vitamins etc... Within four days I was jumping around in full shape but with my mind else where. End January I had an Iboga night with the chap I had gone with, and two weeks later I had never been so on top of my life. Very positive full of energy. Methadone an old story. Jan, if you have reached this stage of enquiring and asking for testimonials I think Iboga is waiting for you. It is not the case or the time for everyone. The first time I enquired with Tatayo the project went into a draw for four months. Iboga decides if and when. If one doesn't respect things can turn very unpleasant. Also very very important, the confession. Start working on it as soon as you can because when the moment comes you'll have maybe 30 minutes to spill out things (just prior to starting the ceremony). I wrote everything down (gee I though I had not been such a bad guy but in fact the list was quite consistent. As for Tatayo he is the one you can trust on all accounts : his knowledge, the costs of the ceremony...The man takes his mission to heart where most of Ngangas don't go far beyond their wallets. Vais con Dios hombre ! Moukoukou MaMisoba